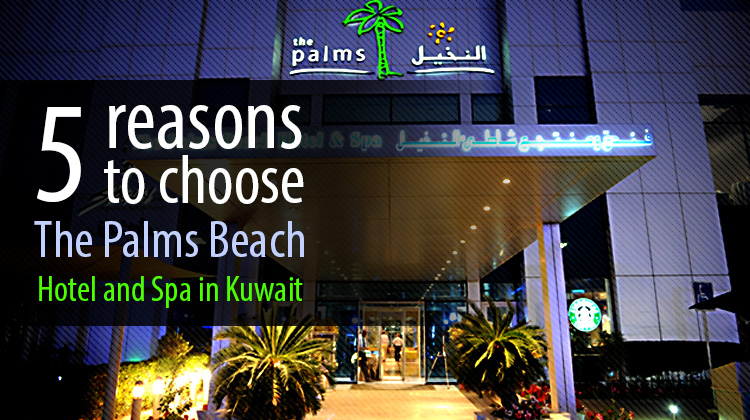 So you're all set for your vacation in Kuwait City, but have yet to decide which accommodation to pick out of the vast range on offer. For the ultimate luxury stay, look no further than The Palms Beach Hotel and Spa, located along Al Ta'awon Street in Salmiya. Here are 5 reasons why you should choose to stay at The Palms Beach Hotel and Spa.
#1: Vacation near the sea
The Palms Beach Hotel and Spa is located right by the sea, and some rooms offer a stunning view of the ocean right outside your room window. All rooms feature coordinated décor, with soothing pastel colors and simple, classy furniture and design. There are 124 rooms available, all equipped with free Wi-FI, with a few options depending on your budget. One and two bedroom suites can be booked, while those seeking to pamper themselves can opt for the Deluxe Suite, which comes with a Spa Bath. Even more extravagant are the Imperial and Royal Suites, with a private pool and ocean view for the ultimate stay.
#2: Fine dining options
Enjoy good food right at the hotel with its varied restaurants and eateries. Recommended by visitors is the Palmerie, a café cum restaurant located right at the heart of the hotel that offers lavish international buffets for breakfast, lunch and dinner. If you have a craving for seafood, you can always head over to the Al-Muhallab, a beachfront restaurant with an old Kuwait theme, great hospitality, and the freshest seafood. Last, but definitely not least, the latest addition to the hotel, Tangine is a Moroccan-themed restaurant that provides all visitors with amazing cultural fare.
#3: Fully equipped Beach Club
The Palms Beach Club is highly praised for being one of the best equipped facilities in all of Kuwait. Apart from a full-sized gym with the latest equipment and skilled trainers to guide you along, the Beach Club also offered venues, equipment rental and lessons for squash, tennis, and even aerobics. Not only can you keep in shape while on vacation, you may even end up picking up a new sport or hobby.
#4: Dive Center for a truly unique vacation 
With its proximity to the beach, the hotel operates a Dive Centre that offers a range of water sports classes. With customized equipment and certified instructors on hand, hotel guests can book diving lessons, from beginner level at the hotel's private indoor training pool, to sessions out in the ocean for those seeking to earn an Instructor's certification. Visitors are offered a free trial dive at the indoor pool, so be sure to give diving a try!
#5: Relax at the Orchid Spa
After a full day of play, relax at the Orchid Spa with internationally qualified therapists providing you with an array of soothing treatments and services. Pick from body massage, facial massage, foot massage, slimming treatments, waxing, and even nail care to suit your needs. For the more adventurous, do ask for the special package treatment for a pleasant surprise.
So pamper yourself today and book a vacation at The Palms Beach Hotel and Spa. Visit their official website (http://www.thepalms-kuwait.com/Default.aspx?pageId=1), or book through any major online hotel booking site.