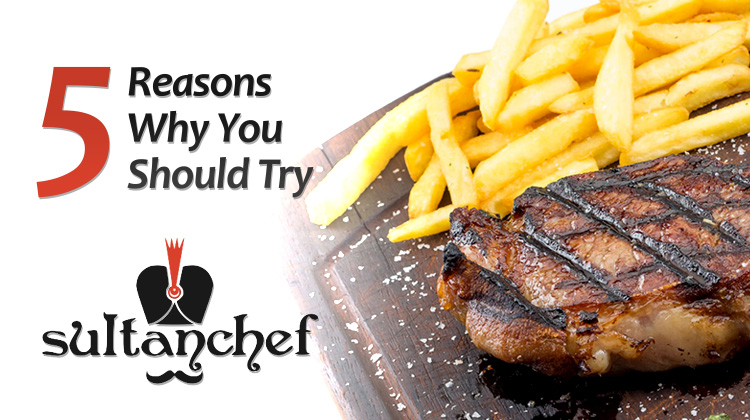 Steakhouse restaurants have always been associated with American and Brazilian cuisine, but the latest trendy steak restaurant in town is none other than Sultan Chef, the home of Turkish-styled grilled meat and barbecue. Here are 5 reasons why you should give this amazing restaurant a try.
Unique taste of Turkish barbecue
The restaurant's team of talented and authentic Turkish chefs believes in their distinctive way of grilling meat, which has met with immense success throughout Turkish history. In addition, Sultan Chef prides itself on sourcing the best meat, such as veal and beef, raised in the finest pastures in Turkey and imported fresh to Kuwait on a daily basis. Each piece of meat is lovingly selected and carefully prepared for every customer, making every visit to the restaurant a unique experience.
Only the best luxury meats
The meat used in Sultan Chef's dishes hail from calf and sheep from Turkey and other quality pastures throughout the world. The needs of the cattle are vigilantly tended to, and they are provided with the best feed and shelter to produce happy animals that yield tender, high quality meat that passes the restaurant's strict standards of smell, color and preservation. Every chef takes responsibility for selecting the best cuts to present to the customers, and that is what makes dining at Sultan Chef so special.
Experienced chefs with talent and creativity
No matter how fine a cut of meat may be, the dish will not turn out well if placed in the hands of an incompetent chef. Diners at Sultan Chef can be assured that all chefs come with years of experience working in the best restaurants in Istanbul before joining the restaurant. From the preparation through to the cooking process and finally presented in distinctive displays, the team takes pride in serving only the best dishes one at a time to customers for the best experience.
Amazing and unique cuisine
Sultan Chef distinguishes itself with its amazing range of food. For starters, try the smoked beef, served with cherry tomatoes, Parmesan cheese and drizzled with extra virgin olive oil, or the Goat's Cheese Salad, a symphony of flavors with garden greens, sweet corn, walnuts, and pomegranate molasses, for a lighter choice.
For mains, the Rib Eye Beef and New York-style Lamb, served with baked potatoes and spinach puree, are two signature dishes recommended by chefs and visitors alike. For the more adventurous, the Beef Entrecôte and Beef Chop with Mustard Sauce are definite must-try main dishes. A hidden gem is the Sultan Chef Special, a tantalizing dish of beef fillet served with melted butter seasoned with sea salt.
Everyone's talking about it!
Sultan Chef's first branch opened in July last year at Al-Tijariya Tower, and was met with an extraordinary number of visitors, up to 500 per day. The restaurant's official Instagram soon boasted over thirteen thousand followers, all fans of the newly-established eatery. In its short life, Sultan Chef had the honor of hosting several elite social figures, as well as being featured on some prominent blogs.
Contact and experience
Sultan Chef can be found in Al-Tijariya Tower, Commercial Center, Mezzanine 2, and is open daily from 12.30 p.m. to 11 p.m. Be sure to make a reservation early through phone (+965 2296 8006) or e-mail ([email protected]) to avoid disappointment.
Check out the restaurant's official website (http://sultanchef.com/) and Instagram (http://instagram.com/sultanchef) for latest updates and promotions.