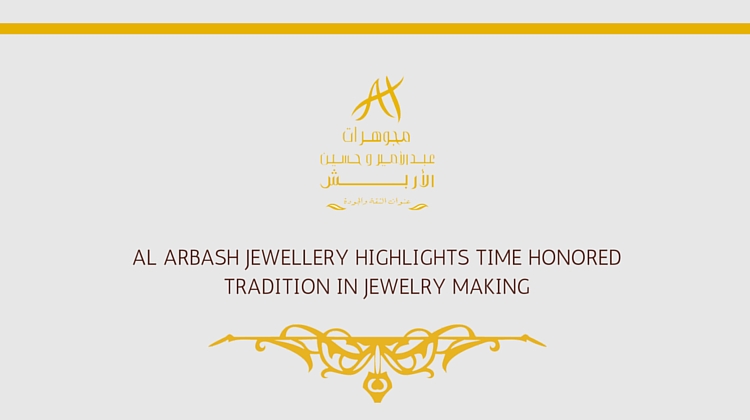 Al Arbash Jewellery is a marvelous combination of exclusive style and sophisticated, distinctive design at an extremely reasonable price point. Abdulamir and Hussain Al-Arbash developed the concept of modern jewelry in 1958 and ever since Al Arbash Jewellery made a massive involvement in setting the trend when it comes to unique and amazing modern pieces of jewelry.
The company started with a single gold shop. But with the continuous and sincere determination of its founders, the company was able to establish its solid reputation in the field of diamond jewelry.
The Al Arbash Advantage
The good thing about Al Arbash jewelry is that it provides customers with the opportunity to own the finest quality jewelry of high caliber without breaking the bank. At competitively affordable prices, Al Arbash Jewelry offers a range of exclusively designed bracelets, earrings, and necklaces. They also offer a wide array of jewelry collections for different occasions. From classic to a supernatural collection, Al Arbash Jewelry has the most exquisite jewelry collections online.
Time Honored Dedication to Quality
As the time went on, Al Arbash Jewelry became popular simply because of their time-honored dedication to providing high-quality products and state of the art services. Al Arbash also took its customer service to another level, making sure that the idea of "Customer is the King" is followed.
Al Arbash Jewelry established its reputation based on goodwill and ethical business practice. As a family owned enterprise, Al Arbash made sure that their century-old reputation will reflect on the products and services they offer. Their approach in business also enabled the company to tap the middle and upper-class market in Kuwait. By continuing their goal and establishing goodwill with customers, Al Arbash Jewelry was able to secure loyalty based pool of clients.
To see more of the collections and unique product line of Al Arbash Jewelry, visit their website at http://www.arbash.com/. Additionally, you can send your inquiries via email to [email protected] if you don't find what you are looking for on their website. If you want immediate answer for questions about their products, call them at:
Telephone: 2410410 or 2435617
Fax: (965) 2445400