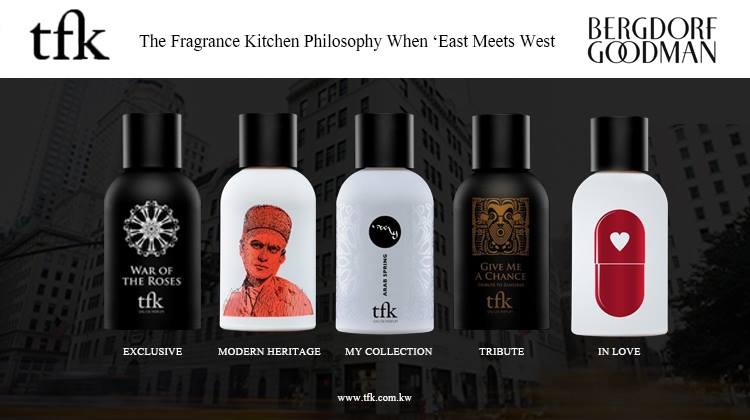 The April 13th launch of The Fragrance Kitchen (TFK) at Bergdorf- Goodman in New York is the next chapter in the evolution of the wildly successful Kuwaiti-based fragrance house which is the brainchild of Sheikh Majed Al-Sabah. The retail chain, which quickly opened outlets in Kuwait, Milan, Florence, Dubai, London and Moscow is now a major player in the international fragrance market. Discussions with other exclusive retailers such as Selfridges, Saks Fifth Avenue, Neiman Marcus, and Printemps are ongoing.
A History of Excellence.
The Fragrance Kitchen's success is based largely on the childhood experiences of Sheikh Majed Al-Sabah whose family has a long history in the development and production of individually unique signature fragrances. This success was based in part of the 'Arabian Wood' fragrance which was created for the launch of Tom Ford's Kuwait boutique. This success was followed by the 2012 launch of The Fragrance Kitchen range of home grown luxury fragrances.
Today TFK partners with a number of high-end retailers such as Bloomingdale's in Kuwait to provide consumers with fragrances such as the successful 'Signature' and 'Exclusive' ranges which blend authentic traditional Middle Eastern components to provide scents which are aimed at discerning consumers across the world.
Local Heritage and International Quality.
The fragrances produced by TFK are manufactured in a laboratory in Grasse, France – renowned internationally as the perfume and fragrance capital of France. However, the inspiration behind each unique scent are distinctly Middle Eastern, with a pronounced international influence. The 'East meets West' philosophy that has underpinned the enormous global success of the TFK brand remains the guiding principle behind the continued expansion of both the retail brand and the world class fragrances that are brought to market.
Influenced by Global Fashion.
Al-Sabah's decades of international fashion experience have led to a unique approach by TFK. This experience is apparent in the Signature and Exclusive lines, which can be likened to 'ready-to-wear' and 'couture', respectively.
The 'Signature' line of fragrances are clean and light, suitable for both day and night time use while the 'Exclusive' brand of fragrances boast unique ingredients, bottle design, and packaging.
The Sheik believes that monthly fashion cycles can influence the production of the company's signature fragrances. In keeping with this philosophy TFK is committed to bringing new fragrances to market on a monthly basis – an ambitious goal, but one that has captured the imagination of consumers across the globe.
Learn More.
For more information on TFK stores, up to date information on TFK fragrances for men and women, as well as Sheikh Majed Al-Sabah's varied projects visit the web page http://www.majedalsabah.com/ or any one of the following sites:
https://www.facebook.com/tfk.ThePage
https://www.instagram.com/instatfk/
https://twitter.com/ILoveTFK
The TFK signature store in Kuwait can be found at AL HAMRA LUXURY CENTER – Al-Shuhada St, Al Kuwait. Phone: +965 – 22270240. For directions visit http://www.tfk.com.kw/Store-Location/Location-Map?Id=FDEB65B3-273E-4DC5-B4E0-E82F2F4E7254