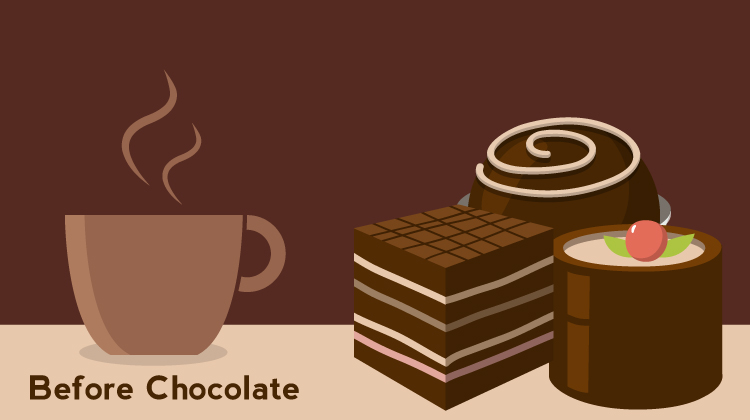 Chocolates have been loved and indulged by many around the world. Initially invented in Switzerland, the country is still home to some of the best brands of chocolate. Of course, you don't have to travel all the way to Switzerland to satisfy your cravings. A taste of Swiss crafted chocolates can be experienced right here in your own country – Kuwait.
Before Chocolate:
Started in 2013 by the Mirius Catering Company, the café came into existence when the Catering Company decided to promote their innovative recipe of handcrafted luxurious chocolates at exclusive eateries. The boutique café not only serves an extensive variety of Swiss Chocolates but also a fine selection of food and beverages.
Chocolates:
The concept of Before Chocolate is developed 100 % in Kuwait. Their assorted selection of Swiss crafted chocolates is handcrafted using the highest quality ingredients from all over the world. They also adhere to the highest selection standards when choosing the cocoa beans, butter, nuts, fruits, coffee, and other ingredients used in the production of their chocolates. The chocolates come in a luxurious package which is ideal to gift any member of the family, friend, or that someone special.
The Gourmet Menu:
The menu bracket at Before Chocolate has something for everyone – whether you just want a quick snack or a full meal. You can enjoy it all at Before chocolate. The gourmet menu offers a range of croissants and pastries which can be enjoyed with a hot cup of coffee, cappuccino, and/or tea. For the health conscious diners, Before Chocolate serves a delectable range of salads. The sandwiches prepared at Before Chocolate are made with home-style freshly baked bread and complemented with chocolate dipped potato chips. The assorted sandwiches can be enjoyed at any meal and will definitely satisfy the taste buds of all.
Dessert:
Nothing completes a meal like a special treat. Your meals will be extra special with the range of scrumptious desserts served at Before Chocolate. Chocolate Chip cookies, chocolate cheesecake, cake tarts, banana Nutella, tiramisu, fondue, and much more – Before Chocolate is bound to satisfy any sweet tooth.
Before Chocolate café is open seven days a week from 9 am to midnight! The boutique café also offers a free delivery service. So, what are you waiting for! Visit the Before Chocolate café located on Al-Salmiya, the Cube Mall and enjoy a great meal complete with an assorted selection of Swiss crafted chocolates. For more information visit the website www.beforechocolate.com