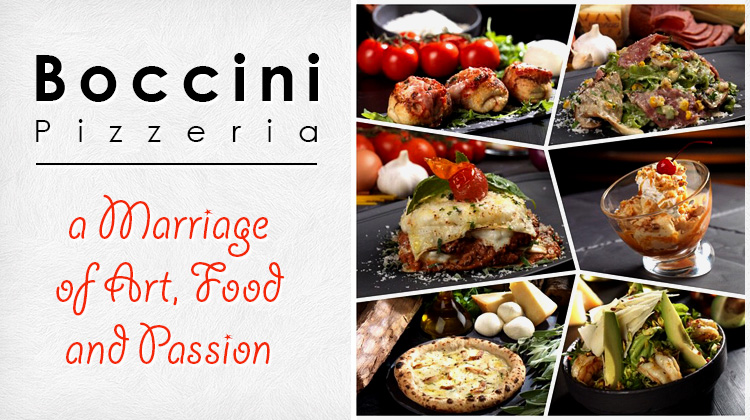 Traditional Italian cuisine: check. High quality ingredients: check. Deceptively simple dishes that are actually well-conceived and make your taste buds tingle for more: double check. Boccini Pizzaria, located in Mahboula's Levels restaurant, makes you feel like you've been transported into a cozy Italian kitchen with its inspired décor, authentic ambience, and of course, wonderful food.
A Passionate Chef
Boccini Pizzaria was born of an Arab chef, and started out as a small diner in Kuwait. Today, the restaurant boasts a refurbished modern lounge setting, with beautiful lighting and interesting wall paintings, contrasting beautifully with the cuisine served on traditional clay-fired plates. At the back of the eatery sits a firewood brick oven imported all the way from Italy, churning out aromatic pizzas that will leave you hungry for a bite. Soft opera music playing through the speakers completes the whole classic atmosphere.
Food as Art Forms
For starters, a hot favorite is the Parmigiana Di Melanzane, deep-fried eggplant stuffed with melted mozzarella and provolone, coated extravagantly with parmesan and dripping with delicious marinara sauce. Another dish recommended by the chefs themselves is the Rotolo Prosciutto Affumicato Della Turchia, a dish with a whole variety of flavors featuring flavorful turkey ham, fontina cheese, grilled oysters, fresh mushrooms and topped off with creamy corn sauce.
Boccini is perhaps best known for its pizzas, a wide range of delectable Neopolitan creations made in both contemporary and traditional flavors. Baked in the firewood oven, the dough comes out crispy and light on the outside, soft and chewy in the middle. Try out one of the newer dishes on the menu: the Bocconcini Di Pizze, a simple delight of rolls of Boccini's amazing pizza dough slathered with spices and cream cheese. The Pesto Rosso pizza is a heartier option, with nutty pesto, olives, anchovies, red onions and mozzarella cheese. Alternatively, try the Pesto Pollo Pizza for a tomato-based pesto, chicken, pine nuts, basil, with both parmesan and mozzarella cheese.
The selection of pastas definitely does not lose out. A favorite amongst fans and critics alike is the Al-dente'd Pappardelle pasta, featuring a tantalizing meaty sauce of chicken sausage, mushrooms, zesty asparagus and Romano cheese based in a smoky pepper tomato cream sauce. For seafood lovers, the Fettuccine Gamberi Piccanti is a must try, with its Fettuccine pasta mixed with grilled prawns, tomatoes, basil and garlic, served with a generous ladleful of spicy pepper cream sauce.
All pizzas and pastas come with an amazing choice of olive oils specially prepared by the experienced chefs, and customers can choose from a selection of rosemary, chili, basil, garlic and lemon oils to drizzle over your dish.
Boccini also prides itself on its traditional desserts, scrumptiously sweet creations to end off the zesty meal. Opt for the Panna Cotta, a vanilla pudding topped with fresh berries and a sharp raspberry coulis sauce or the Banana Nutella, a heavenly combination of chocolate and banana served on a crusty dough base.
Visit Today
At Boccini, you will find passionate chefs with dishes prepared lovingly for the customer, artfully showing off the unique flavor of each ingredient in the most fantastic way. A perfect marriage of art, food and passion indeed!
Boccini Pizzeria is located in the Levels restaurant, Mahboula. Call 2371 6216 to make a reservation, or follow them on Instagram (https://instagram.com/boccinikw/) to check out stunning photographs of their amazing cuisine.