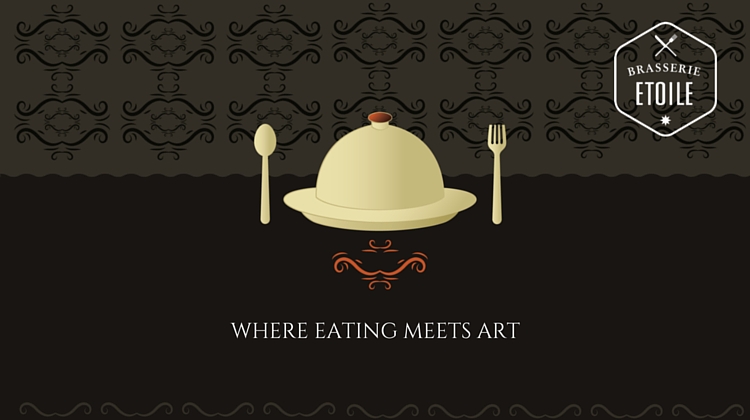 If there has ever been a place where the art of fine dining has its home, that would be Paris. Long the chosen destination for those with refined palettes France will always beckon those with a taste for the finer things in life – amongst them the subtle flavours that have made the country – and the city of Paris famous. Nowhere does the taste and refinement of Parisian cooking come to life more vividly than Brasserie de L'Etoile – Kuwait's latest culinary sensation.
Simple Pleasures and Refined Tastes
Eating at Brasserie de L'Etoile is quite simply an experience in elegance. With décor that echoes the traditional feel of a turn of the century Parisian corner café, the charm extends to the open from terrace featuring authentic cane chairs and marble topped tables. Patrons seated inside the restaurant will find themselves surrounded by an Art Nouveau interior with curved wooden panelling, graceful and artistic floral highlights, offset by ornately famed mirrors.
It's not only the décor that transports patrons to Paris; it is the attitude of the service staff and the warm and welcoming nature of everyone in the establishment. From the skilled chef to the elegant maitre d' the experience of a meal at Brasserie de L'Etoile is not easily forgotten. This is an experience steeped in the French "Savoir Vivre," a uniquely Gallic attitude that demands an enjoyment of each moment of pleasure that life brings.
An Authentic Experience
The cuisine at Brasserie de L'Etoile is authentically French. With subtle flavours combined with a hearty approach to each dish this is French cooking of the highest calibre transported to Kuwait.
With dishes such as walnuts and apple with smoked Turkey, topped with gruyere cheese or the signature tartar steal with alfalfa salad this is a menu that demands attention and rewards exploration.
Classics like the entre of traditional onion soup epitomise the French approach to cuisine while main courses like Braised Lamb Shank with ratatouille and mashed potatoes, Orange Duck with spatzle, asparagus and celery mash, and Baked Salmon Filet with rock salt have swiftly become hot favourites on a menu that are filled with five-star items.
What a French menu would be complete without dessert dishes such as Vanilla Bourbon Crème Brûlée and Tarte Tatin (caramelized apple tart) – authentic French taste in an authentic French setting.
Whether you choose to enjoy a breakfast of omelettes and croissants, a light lunch consisting of the delicious cheese and turkey toasted sandwich or the full evening menu the choice at Brasserie will delight and tantalise your taste buds.
Enjoy French Cuisine of the Highest Quality
Now you can experience the tastes of traditional French Brasserie cooking in an authentic environment. Visit Brasserie de L'Etoile at 2nd Avenue – The Avenues in AL Rai and expect to be transported to a place where fine dining is a way of life. For directions and contact information visit http://www.alshaya.com/brand/brasserie-de-l-etoile/kuwait. For more information on menu choice, you can also visit the original site where menu choices appear in both French and English.