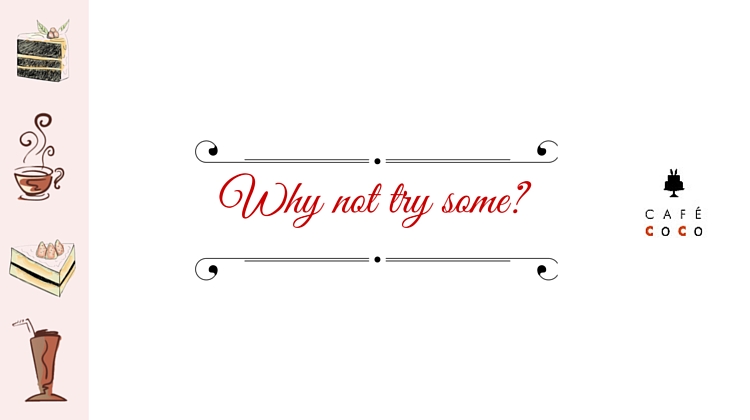 Some people love taking a hot cup of coco in the morning. People who take coco enjoy some of the benefits that come with it: Cocoa reduces blood pressure especially in pregnant women, reduces the rate of heart diseases and heart attacks, relieves stress and a very good cough reliever, the caffeine in cocoa will protect your skin against damage and skin cancer. All these benefits just for a cup of cocoa! Why not try some?
Café Coco
Is a whimsical café, restaurant, and patisserie. They make coffee using their world premium of coffee beans, crafted exclusively from the Le Piantagioni del Caffe beans from Italy. When it comes to their food, this is the place to go to when you are hungry and looking for delicious food and dessert. Their food is always fresh and deliciously prepared.
They have a variety of dishes that are fresh, healthy and look amazing. Their foods are prepared in very simple ways using fresh, simple, natural and original ingredients. Their foods are also very delicious and yet not expensive. When one makes an order the food is made very quickly.
Foods and Beverages from the menu
Café Coco serves the most delicious coco coffee beverages accompanied by some of their best pastries for breakfast, here are some of them like: Halloumi&Za'atar a perfect excuse to eat sliders for breakfast, coffee brunch, Nutella Brioche with a Cappuccino-"Alto Palomar" Coffee balanced with organic sweetness of Honey, Roasted Almonds and Notes, Espressos, Panini flat bread. You can not miss their delicious foods, they serve coco combo sliders, their three cheese Panini can never disappoint, croissants with eggs benedict from traditional breakfast which is their favorite dish prepared the Café coco way, pesto pasta nice and yummy, a must have-Panini steak.
They also serve Creamy Mushroom Pasta prepared with rich creamy sauce, their signature Quiche-stuffed with roasted chicken and caramelized onions, topped with truffle oil labneh and mushrooms and pasta. They also serve, Chicken Caesar salad made coco style, quinoa salad, Mesclun salad- a mixture of young greens and much more and when it comes to appetizers they have the irresistible Chocolate Fountain served with 10 types of fruits for dipping, Coco Cappuccino Ice Cream, Nuttylicious Sundae; a homemade dulce de leche ice cream served with Nutella cream Brulee and topped with caramelized nuts and whipped cream, ice cream chocolate sundae extravaganza served with caramel popcorn and cotton candy
Visit Café Coco and enjoy the best cocoa and coffee beverages, pastries and dishes on offer. Do you want a door delivery service? Call their number 22283237.
Cafe Coco Location
Café Coco is found in the Middle East on The Grand Avenue of Kuwait City. They are open and operating throughout the day and weekends. Unlike other cafe's, you don't have to make a reservation; you can just walk in and order.
They also do door delivery services in areas around Kuwait city.To know more about Café Coco, you can reach them through their business line +965 222 83232 or their boutique +965 222 83237. or go to their website, the link is @cafecocome for more information. Follow them on Instagram at instagram.com/cafecocome/ and look at their photos of their chocolate dishes and comments from their customers.