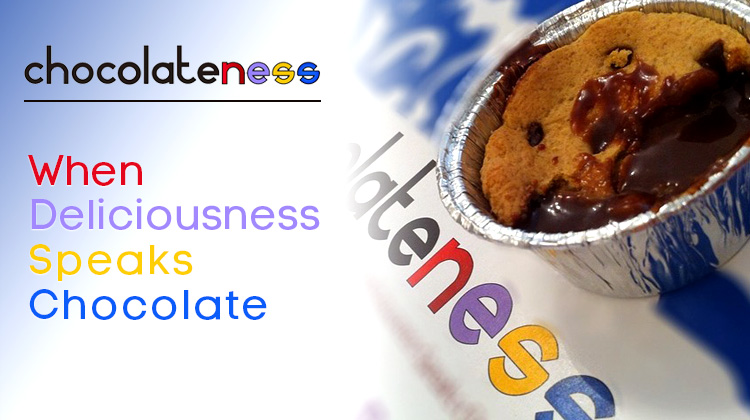 As a delicacy which people term to be fit for royalty, chocolate is definitely more than just a dessert. And no one understands that better than Chocolateness, an exciting company managed by four young Kuwait businessmen, with their signature chocolate molten cake. The stunningly rich treat is a decadence that soon overwhelmed the young owners with its surging popularity, and the company pledged to deliver their wonderful dessert to every willing customer's doorstep.
Delivery Menu
The molten cake is Chocolateness' main product. Made from only the finest ingredients and baked with love, the delicious treat comes in many different flavors to suit everyone's tastes. The original milk chocolate molten cake is a definite must-try, followed by interesting flavors such as the pistachio molten cake, a tantalizing mix of pistachio and butterscotch to create a dessert in a soothing shade of green, the cookie molten cake, a delicious mixture of cookie dough with warm chocolate sauce, and the truly unique Rahash molten cake, made by combining the sweetness of milk chocolate and rahash (sweet tahini).
For diehard chocolate lovers, do check out the sinful red velvet molten cake. Made with a special milk chocolate sauce, it is sure to please all who tastes it. Other flavors available to order include salted caramel, peanut butter, and Nutella molten cakes. All cakes are sold in dozens, and are available for order online.
Dine-in Menu
For a dine-in experience, feel free to visit the restaurant and store located at Jassim Tower. The eatery offers a wide selection of café foods, including appetizers, sandwiches, pasta, and of course, desserts and drinks.
Do try the Shoe String Rings (thin slices of onion rings with a lime mustard dip) or Portobello Fries (crisp Portobello mushrooms with parsley aioli sauce) to whet your appetite before diving into the main meal. Those who crave a lighter meal can opt for a sandwich or burger, while hungry souls can go for the Penne Arrabiata pasta or lasagna.
Of course, the molten cakes are always available for dessert, but you might like to try the other dishes on offer as well. For a unique dessert, try the iced cheesecake balls, which come in three tasty flavors and are served with sweet chocolate sauce for dipping and crumbled biscuits. Those with little ones can opt for the make-a-lolly dessert, where you get to create your very own lollipop from white or milk chocolate sauce.
As quoted from their website, "Chocolateness is more than a slice of cake. Chocolateness has evolved into a concept, a concept of all that is good in life". Once you've had a taste, it isn't hard to understand why the delectable treats offered by the company deserve such a bold statement. Visit their website at http://www.chocolateness.net/ to order online now, or drop by the restaurant at Burj Jassim on Soor Street, Murqab.