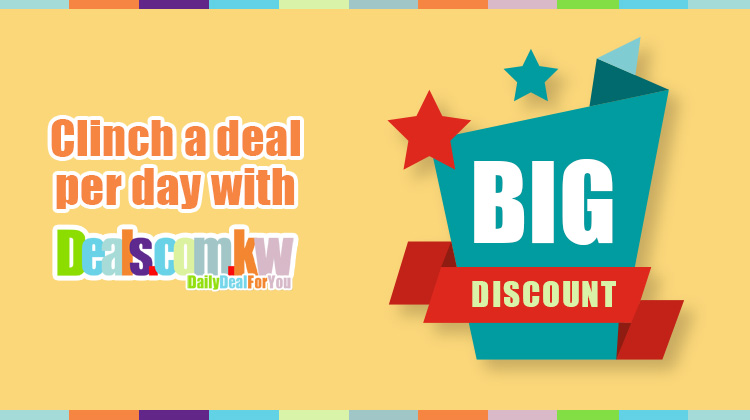 Love shopping but held down by budget constraints? Deals.com.kw solves all your problems by offering you a novel product every 24 hours at irresistible discounts. Every item is unique and limited, which means you need to act fast to get what you want. Shopping has never been more exciting!
How does it work?
A new product is released on Deals.com.kw's website every morning at 12 midnight, Kuwait time. Each day's item will only be available at the discounted price for the next 24 hours, so that is the best time to clinch the deal and make your purchase. Simply register at the website to complete the purchase, and items bought will be delivered within 24 hours of a successful transaction, so you can be assured of getting your product in the shortest possible time.
Once the 24-hour deal period is up, the item is shifted to the website's store page, which is a compiled list of all past items sold by Deals.com.kw. Therefore, there is no need to worry about missing out on items, as you can always access the store and purchase it from there. Deals.com.kw will be in charge of contacting the supplier to check for the product's availability, and to arrange for delivery to you by the second day of your submitted request.
Payment for items is safe and easy; you can choose either to pay online through Knet or VeriSign, or you can select the Cash on Delivery option.
What items are available?
Deals.com.kw offers an amazing range of different products for both personal and business use. You can purchase home appliances, electronics, computer hardware, fashion, health goods, games and other miscellaneous items from the store at amazing prices unrivalled by any store in Kuwait.
Each item comes with a full page description, including color photos of the product, a promotional video, detailed information and specifications, and more. Some items on sale even come with freebies, making each purchase at Deals.com.kw a truly worthwhile and fulfilling experience.
You can also work with Deals.com.kw to set up deals to sell your products. Simply send out an email or fill out the contact page on the website with information on your product, and once the deal goes live; you are ready to ship your item to customers all over Kuwait.
Contact Deals.com.kw
Whether you are an avid shopper or a supplier looking to sell your goods, Deals.com.kw works to provide you with the best deals. Visit their official website at http://www.deals.com.kw to find out more, or send them an email at [email protected].
Keep updated with daily deals by following Deals.com.kw on any of their social media accounts listed below.
Facebook: https://www.facebook.com/deals.com.kw
Twitter: https://www.facebook.com/deals.com.kw
Youtube: http://www.youtube.com/dealscomkw
Instagram: http://instagram.com/kuwaitdeals/#