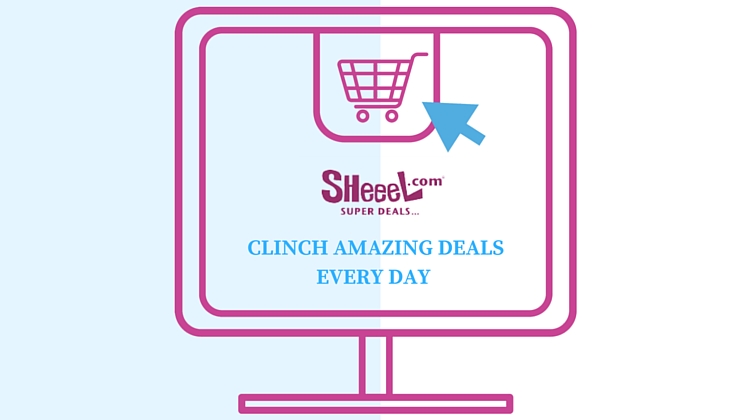 Do you love to shop? Have you ever felt the guilt of spending too much on shopping sprees? Fret not. Check out Sheeel for amazing new deals offered on a daily basis, and never feel the cinch of overspending again.
What is Sheeel?
A startup business based in the Middle East, Sheeel is an online store that offers deals on a whole variety of items at unbeatable prices. The trick is that each deal is only available for 24 hours, or until the product is sold out. With new deals being offered on a daily basis, there is never a dull moment in shopping with Sheeel.
Their main mission is to help consumers save money on otherwise pricey purchases, through sourcing of favorite products from the best logistical suppliers to ensure the best deals. With easy and cheap delivery options, you can shop from the comfort of your home and have your items delivered safely right to your doorstep.
What does Sheeel offer?
Daily deals featuring a wide variety of items are updated on their main website, including electronics, home appliances, toys, computer accessories, fashion and beauty products, and much more. Each deal comes at a matchless price, together with a detailed product description, a list of features and specifications, and extra information such as warranties. Useful information such as the number of units sold is also available, so it is easy to judge how popular each product is and how many are left on sale. A countdown timer is also attached to each deal to show how much time is left before the deal closes.
How do I purchase and receive my products?
Purchasing on Sheeel is a breeze, with a "Buy Now" option that leads straight to an easy checkout process through secure payment sites like Knet, Visa, and Mastercard. Delivery will be processed once payment is confirmed so that you receive your purchases within 72 hours. All deliveries are handled by FedEx, and Sheeel will provide each customer a unique tracking number so the package can be tracked throughout the delivery process.
Where can I try out Sheeel?
Check out Sheeel's main website (http://www.sheeel.com) to start shopping immediately. Any inquiries can be directed to the friendly and helpful team through a call at +965 182 1010 or e-mail to [email protected].
Sheeel also operates on various social media sites so customers can keep updated on deals easily. Follow them on the following platforms to catch the latest deals.
Twitter: https://twitter.com/sheeeldotcom
Facebook: https://www.facebook.com/SheeelDotCom
Instagram: https://insta