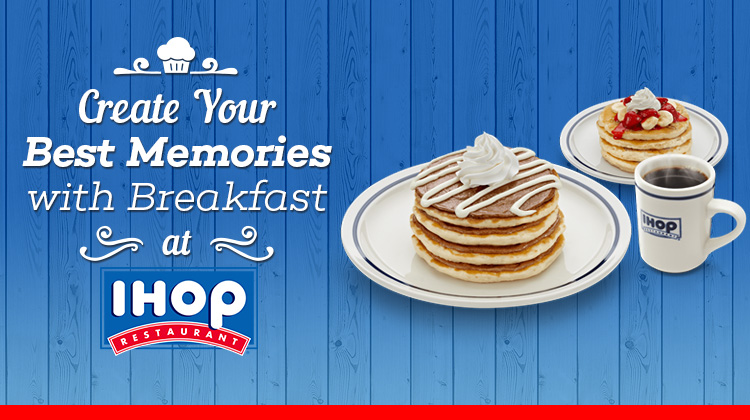 For over half of the last decade, the International House of Pancakes, more affectionately known as IHOP, has made it their mission to create a restaurant where breakfast is not just a meal, but a time when the best memories are created. Serving their trademark pancakes at locations all over the world, there is truly no better place to experience a truly affordable, delicious meal.
Dining at IHOP
With a hearty range of breakfast options available, the customer is truly spoilt for choice. From delicious omelettes and their world-famous pancakes to crepes, burgers and pastas, there are plenty of reasons to visit IHOP again and again.
For starters, try their Chicken Fajita Quesadilla, a grilled tortilla stuffed with juicy chicken breast pieces, onions, green peppers and tomatoes, seasoned with zesty jack and cheddar cheese, sour cream and salsa. You can also opt for the Appetizer Sampler to experience a platter of the restaurant's three choice appetizers: Monster Mozza Sticks (thick mozzarella cheese sticks fried in bread crumbs and served with marinara sauce, traditional golden brown Onion Rings, and Buffalo Chicken Strips (breaded and fried chicken strips tossed in a spicy Buffalo sauce and served with crunchy vegetables and a choice of blue cheese or ranch dipping.
The Chicken Florentine Crepe has been one of the most popular dishes at IHOP, and it is easy to understand why once you have gotten a taste. With delicately grilled crepes sandwiching tantalizing chicken breast strips, spinach, mushrooms and onions, topped off with Swiss cheese and Hollandaise sauce, it is a savory dish that many customers always return to try again. Those with a sweet tooth can opt for the Nutella Crepe instead, creamy egg crepes filled with homemade Nutella and slices of fresh fruit, accompanied by strawberry sauce and whipped cream.
One does not visit IHOP and not try their pancakes. Hungry diners can go for the Cinn-A-Stack Pancakes, a stack of four fluffy buttermilk pancakes layered with cinnamon filling, topped with rich cream cheese and whipped cream. The Chocolate Pancakes are also a hot favorite, sprinkled with chocolate chips and decorated with powdered sugar and whipped cream.
Other delicious items on their menu include omelettes, such as the Big Steak Omelette, featuring tender steak, hash browns, fresh greens and cheddar cheese, and the Beef Bacon Temptation Omelette, and aptly-named dish with crispy beef bacon and a rich and tempting selection of cheeses. Their classic IHOP Supreme Burger is also a great choice; a thick juicy beef patty topped with a homemade special sauce, cheddar, caramelized onions and fresh vegetables. For beverages, try out their house special Splashberry, a blend of strawberry, lemon-lime soda and premium orange juice.
Experience IHOP
IHOP is currently open at two locations in Kuwait, the Avenues Mall and in Jabriya, Hallawy. Working hours are from 8:00 a.m. to 10:45 p.m, with breakfast served all day. Delivery options are available through Talabat (http://www.talabat.com/kw/en/restaurant/2039/ihop-kuwait).
Visit their official international website (http://www.ihop.com/) to learn more about the restaurant, its history, and keep updated on promotions and deals.