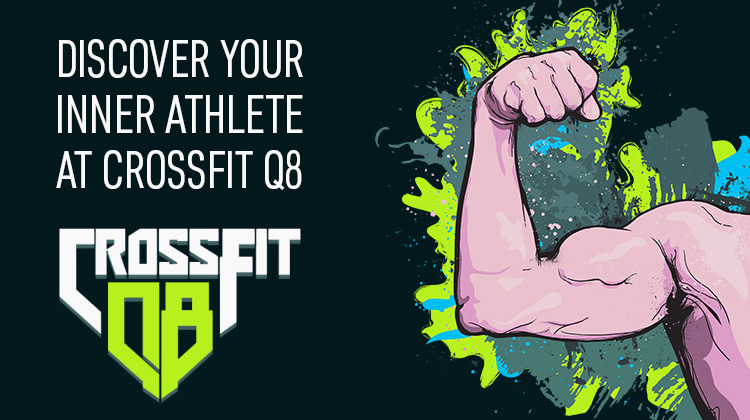 As Kuwait's very first affiliated CrossFit box, CrossFit Q8 offers a revolutionary spin on training and exercise. With the promise of achieving a healthier and happier you, there is really nothing to lose should you choose to embark on this new sport.
What makes CrossFit Q8 special?
Professional coaches are probably CrossFit Q8's greatest asset. The head coach, Yousef Albaqsami, has taken part in regional games such as the Reebok CrossFit Games held in 2013, and given interviews on TV programs on AlWatan TV, AlRai TV, and Sport Cafe. With plenty of experience under their belts, you can be assured of receiving the best workout advice and guidance from the team.
Training at CrossFit Q8 is a personal experience. With classes of limited size and individualized personal training available, the focus is placed on each athlete, allowing them to pursue and succeed at their workout goals. Consultation sessions with the coaches are also offered, and potential athletes are encouraged to visit the gym and sit in during classes to witness the experience before signing up for training.
Services available at CrossFit Q8
The gym offers classes for men and women daily from Saturday to Thursday, with additional advanced classes for men and open box events in the afternoons. During the class, you can expect not only fitness training, but friendly competition and encouragement from fellow athletes, weight loss, gain in strength and endurance, and also the support and advice of passionate coaches.
Specialized programs and consultations are also available for athletes who are unable to find time to join the scheduled classes. Some special programs include fat loss, muscle gain, and training for those with injuries.
Online coaching is also available for athletes who wish to train at home. A personalized program will be designed by the head coach based on each individual and their needs and goals, be it weight loss or training for a specific sport. The coach will check in on the athletes weekly for updates, and modify the program to match with the athlete's progress.
Experience CrossFit Q8
CrossFit Q8 gym is located in Salma Complex at Salmiya, and the team can be contacted via phone at +965 6969 4344, through e-mail at [email protected], or their online contact form (http://crossfitq8.com/contact/).
More information on CrossFit training, class schedules, coach profiles and events are available on the official website and the gym's various social media accounts.
Official website: http://crossfitq8.com
Facebook: http://www.facebook.com/crossfitq8
Instagram: http://www.instagram.com/crossfitq8
YouTube: http://www.youtube.com/crossfitq8