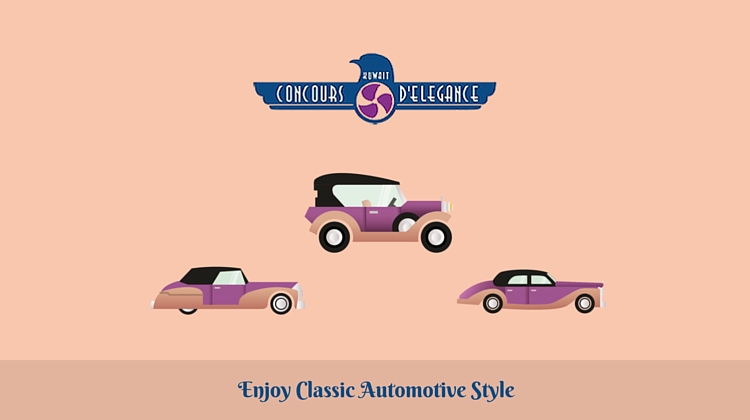 Each year some of the most elegant cars in Kuwait are paraded in front of an adoring public made up of motoring enthusiasts and those in love with the idea of classic and powerful beauty on four wheels – this is the Kuwait Concours d'Elegance. The Concours – which is patronized by his Highness Sheikh Nasser AlMohammad AlAhmad AlJaber AlSabah presents a visual spectacle of historical, classic and vintage automobiles which will delight any established or aspirant petrol head. The Concours d'Elegance brings together car owners who will compete to see who has the most luxurious, elegant, most well designed, beautiful or unique automobile in the country.
Enjoy Classic Automotive Style
Ever since its inception the Kuwait Concours d'Elegance has become a competition that is synonymous with the same sort of style that saw the first Concours d'Elegance held in the 17th century in that capital of haute couture and cool – Paris. Today a similar commitment to elegance is on show at the Kuwait Concours d'Elegance –and the setting is one of the most beautiful and striking in Kuwait, the Marina Crescent. The sparkling waters, pristine sands with the stunning backdrop of the city skyline are all perfect ingredients that make the Kuwait Concours d'Elegance the Middle East's premier classic car show.
Connecting Passion and Competition
The premier status of the Kuwait Concours d'Elegance has attracted some of the most well-known global car collecting celebrities in the world to act as judges. It today attracts the cream of the international car collecting fraternity from the region and across the globe. The competition is the premier opportunity for those who love automotive elegance to share in their passion for some of the world's most collectible and breath-taking classic automobiles. Although he Concourse is billed as an exclusive event it is open to the public – however only those who receive an invitation are allowed to participate in the event. Each participant is the owner of an automobile that has been hand selected from among the best examples in the world. The public is offered the opportunity to mingle with classic car enthusiasts, VIP's and other luminaries at what has been billed as the greatest celebration of classic and legendary cars in the Middle East.
Learn More
To get in contact with the organisers or register your motor call contact 24819186 or 24847143, Ext: 102. Visit http://www.kuwaitconcours.com.kw/index.php/en/ for full details of the event or learn even more at http://www.facebook.com/kuwaitconcours