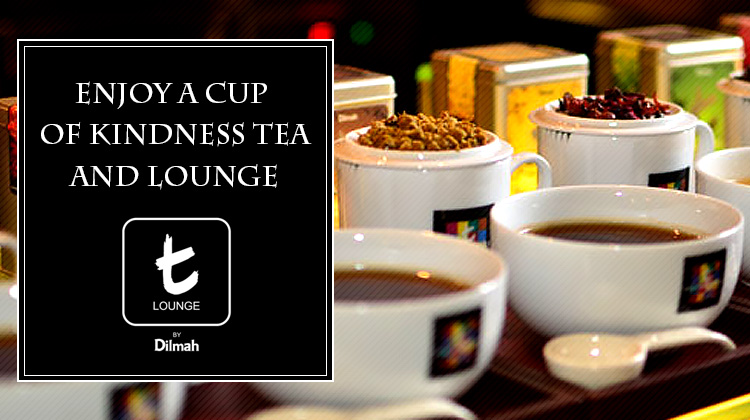 Generosity to a "t"
"Settlor of the MJF Charitable Foundation, Merrill J Fernando conceived in the 1950s, the idea of a business that would help restore the fortunes of his county's ailing tea industry, and its million or more direct dependents, whilst sharing the benefits of that business with the community." –http://www.mjffoundation.org/the-vision/
It's wonderful to be able to sit down and savor a cup of tea, and what's even better is that drinking Dilmah's magnificent tea brings fortune to others. A tenth of the earnings made by Dilmah's tea companies is used to improve the community and encourage social motivation. Each cup of tea helps improve the lives of over 10,000 deprived Sri Lankans every year. Relish a pleasant cup of tea and connect with your mind and body as well as with nature.
The menu
Dilmah t-lounge offers a variety of refreshing beverages, treats, and small meals. The array of mouth watering flavored teas are limitless, offering a unique tea beverage to suit even the toughest critic. The diversity of hot and cold beverages provide a wonderful added bonus to an already delectable high quality product. Dilmah's t-lounge presents supreme Ceylon tea blends, ranging from relaxing pure chamomile flower tea, to a delightful rosemary with peppermint blend, the options are extensive. They also provide savory cakes, sandwiches, and an assortment of crepes to compliment any tea beverage blend you may choose. Sit down and enjoy a pleasureful experience with luxurious beverages and treats to suit your fancy.
Dilmah Conservation
"…making business a matter of human service."
A main priority of the Dilmah's Conservation is to bring peace between man and the environment. Profits from the enjoyment of this supreme tea brand bring humans and nature together. This coexistence promotes e.g., sustainability of indigenous community's, rehabilitation of the ecosystem, protection of ecosystem variation, along with environmental education.
Dilmah's t-lounge operates year round with multiple seasonal events, be sure to call and reserve your table if you plan to attend any event.
Location: The Avenues Mall, Kuwait City
Phone: +965 22597777
Operating Hours: 10 am to 10 pm
If you have experienced this wonderful community, please comment with your perspective, and feel free to share this article with friends and family!