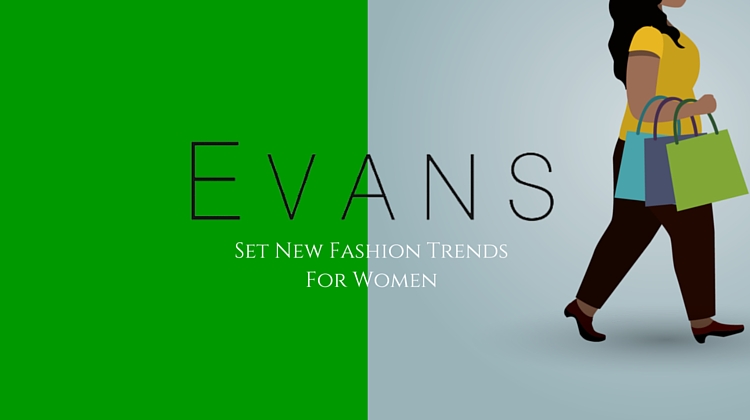 Founded in the 1930's by Jack Green, Evans has grown into a fashion trendsetter for 14+ women's apparel in the United Kingdom. They have created their niche within the fashion industry and has become popular for advocating classy styles designed to fit comfortable, define, and flatter the female figure. By empowering their clienteles and supporting the belief that real beauty comes from celebrating the feminine shape with confidence, Evans has encouraged the development of a new mindset about the positive characteristics of a woman body.
From casual daywear and class night dresses, Evans' fashion collections are created with a great focus on making women of all sizes look great. They even provide customers with diverse clothing solutions for their clients to feel extraordinary. In support of Evans' body confidence concept, the company only works with fashion driven and stylishly inspirational women over the course of its styles development. And since each of them has a different outlook on how to compliment different shapes of sizes of the woman body, Evans was able to provide a more diverse range of women fashion over the years.
Setting The Plus Size Fashion Trend
In the 90's, one of Britain's best-loved and highly popular comedienne Dawn French started a line with Evans. But what finally solidified their footing in women's plus size fashion is when Crystal Renn, a popular plus size supermodel has become the face of Evans. The company's advocacy on better and trendier plus size fashion, as well as the fierce opinion and belief of Renn with regards to body image, proved to be the fatal combination among Evan's competitors.
Body Image Concept
Evan's personalized service starts and ends with their clienteles. What makes it easier is the fact that the company itself is formed by a team of women that loves shopping and in the position to know what women needs to enjoy a bit of retail therapy. Their expert sales advisors are known for giving the excellent professional advice instinctive perception of the customer's discernment on body image. And with its online shopping platforms, Evans customers can now shop from the comfort and privacy of their homes without sacrificing the quality of their shopping experience.
Gaining a foothold in Kuwait's fashion scene, Evans has become part of M.H. Alshaya Co. retail franchises. Its headquarter is located at Pepsi Cola Street, Behind Mercedes-Benz Garage in Shuwaikh with telephone numbers (+965) 2224 2000.
Follow them on Facebook at https://www.facebook.com/Alshaya and get daily updates on the latest Evans trends.