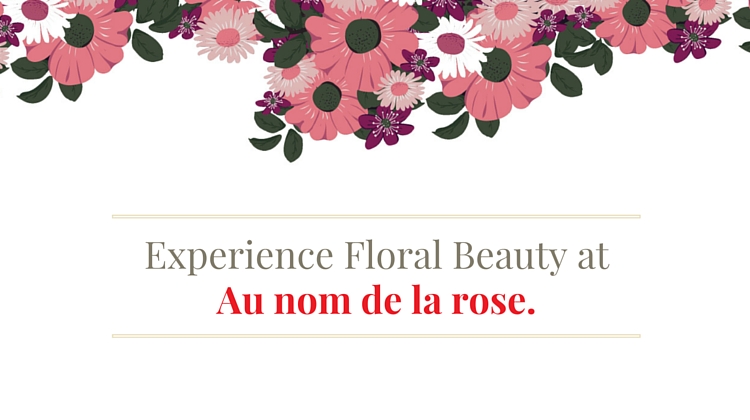 Lover, wives and friends now have the ideal way to express their feelings for one another. Since the founding of "Au nom de la rose" in 1991 on the rue de Tournon in Paris rose enthusiasts have flocked to the shop to find the perfect rose, of the perfect colour and perfect scent for that extra special someone.
The launch of "Au nom de la rose" in Kuwait in 2006 has meant that now there is no excuse not to declare affection with that universal declaration of love – the rose. "Au nom de la rose" has been providing world class roses for every occasion.
Gifts that Matter – The Queen of Flowers.
Roses have been known as the 'Queen of Flowers' for generations and the renowned French florist "Au nom de la rose" is the chosen destinations to find the perfect rose. "Au nom de la rose" specialises in providing the most perfect bouquet of roses to consumers, no matter what the occasion or their individual preferences.
The almost infinite variety of roses of all shapes and colours that are available at the signature florist means that weddings, anniversaries, graduations and a variety of other celebrations can now be enhanced with the most perfect of displays – a stunning arrangement of roses.
Driven by a Passion for Beauty.
Each of the floral arrangements provided by "Au nom de la rose" is unique. It is the quality of the bouquets and the roses that make a gift from "Au nom de la rose" so special. The company has been working with the same globally recognised suppliers since 1991, and today the commitment to excellence that starts in the rose garden and ends in your venue or home is readily apparent in the beauty of their products.
Customers are guaranteed not only quality and beauty but also excellent value for money. At "Au nom de la rose" prices remain fixed all year round. Artificial inflation of pricing on occasions simply are not store policy. The company is committed to a simple philosophy of offering refinement and beauty, as well as delivering on a promise of affordability.
For those in search of something else for a loved one "Au nom de la rose" also has an extensive range of fragrance products including candles and similar product lines, all created with the same passion that drives everyone at "Au nom de la rose" to continual search for excellence.
A Rose Today.
For customers who want to purchase that timeless gift of elegance, that characterises the rose a visit to any one of the stores in Kuwait is a must. The stores can be found at the Salmiya Bedaa Al Arjan Complex – tel: 22253157/Mob:67747741/Fax:22253158 or Shuwaikh Al Tilal Mall – Tel: 22255998/Mob:94433159. For even more information visit https://www.facebook.com/aunomdelarosekw/ or make your purchase online through https://kw.bleems.com/#aunomdelarose