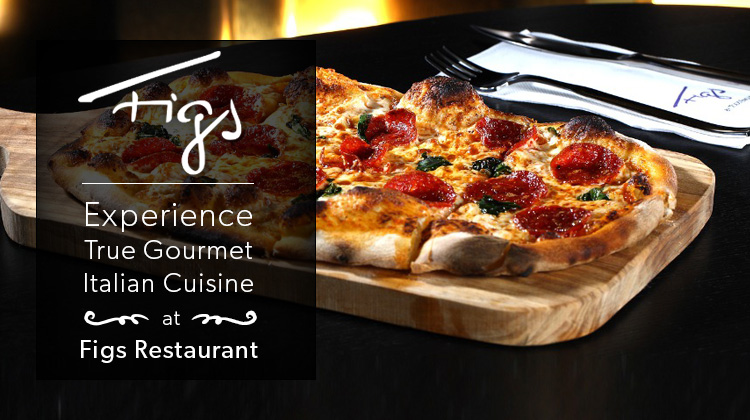 Todd English, a charismatic and celebrated chef respected throughout the international culinary world, has opened numerous restaurants around the globe. With countless amazing and inventive dishes under his belt, including the highly successful Olives Restaurant chain, he decided to focus his attention on creating a more casual restaurant concept, serving traditional handmade Italian cuisine. And thus, Figs Restaurant was born.
Internationally recognized restaurant chain with amazing ambience
Currently, there are Figs restaurants operating at six different locations worldwide, mostly spread throughout the United States but with the two newest branches opened right here in Kuwait; one at The 360 Mall in Al Zahra'a, and a second at Grand Avenue's The Avenues Mall in Al-Rai.
Since their openings in 2013, the restaurants in Kuwait have enjoyed much success both by locals and tourists alike, and have earned the title of favorite hang-out for Kuwaiti international students. The restaurants adopt an open layout, decorated with wood and leather furniture to provide a warm and pleasing atmosphere that encourages guests to relax and enjoy the meal. The stone oven, where the pizzas are baked to perfection, sits proudly as the restaurant's centerpiece.
Eclectic menu featuring traditional, handmade cuisine
Figs Restaurant offers an astounding variety of dishes, with starters, main dishes and beverages divided into two different menus: the breakfast and brunch menu and the lunch and dinner menu. Desserts are, of course, available all day round.
Highlights from the breakfast and brunch menu include a delicious selection of flat breads, as such classic, mushroom, asparagus and mela cannela flavors. The unique Frittata-style omelets, baked in iron skillets and served with toast and seasonal greens salad, are highly recommended, as guests can pick from a wide selection of ingredients available to add to their omelet. For those who prefer a more traditional breakfast, the restaurant also serves great French toast, breakfast muffins, and pancakes. Do check out the one-of-a-kind Red Velvet Pancakes, a sinful delight drizzled with chocolate sauce and topped with cream cheese frosting.
The lunch and dinner menu offers a totally different experience with a whole new range of dishes. Start off with the restaurant's newest creation, the Todd's Buffalo Dip, tender chicken bits prepared with a symphony of sauces, including Todd's original hot sauce, and served with tortilla chips and celery sticks. Diners will be spoilt for choice with the mains, with chicken, steak, veal and jumbo prawn dishes on the menu. But the star of the show is definitely the flatbread pizzas, featuring inventive and stimulating flavors such as Caesar Chicken, Bronx Bomber, Beets and Feta, Red Sox and Cheeseburger Calzone.
There will always be more room for dessert, so check out the selection available at the restaurant. The Fried Apple Pie, served with whipped cheesecake, apple cider caramel and vanilla gelato is a must-try. Another recommended dish is the Butterscotch Budino, featuring salted caramel, whipped yogurt cream, vanilla milk cake and butter crunch cookies.
Experience Figs firsthand
The breakfast and brunch menu is available exclusively at the Grand Avenue branch from 9.30 a.m to 1 p.m. on weekdays and 2 p.m. over the weekend. Lunch comes on from 11.30 a.m. to 4 p.m., while dinner lasts from 4 p.m. to 11.30 p.m.
Due to its overwhelming popularity, it is the best choice to make a reservation beforehand to avoid disappointment. Contact the 360 Mall branch at 2530 9559, or the Grand Avenue branch at 2220 0698, or simply visit their official website to fill out a simple reservation form.
Learn more about the restaurant at their official website (http://www.figs-me.com), where you can browse menus and keep updated on news and promotions