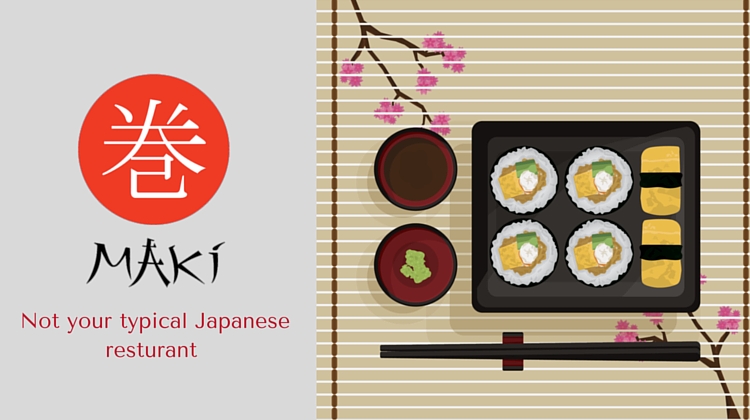 Maki is a family owned, a Japanese restaurant in Kuwait that successfully combined Japanese tradition with contemporary global flavors and taste provoking textures. This Japanese restaurant has become Kuwait's leader when it comes to modern, authentic Japanese cuisine in addition to its five other award-winning restaurants that already established its brand in the international setting. Founded by brothers Oliver and Amer Zeitoun, they originally planned to create a restaurant that will offer a list of cuisines that are capable of surpassing cultural boundaries worldwide.
Fusion of Global Flavors and Japanese Tradition
Maki's ambiance will make you feel at home and relaxed while you discover their cuisine and its fusion of global flavors. The restaurant guarantees customers with new and exciting culinary experience on every visit. Their menu includes a palatable list of soups, salads, starters, Oliversan signature items, maki style, traditional sashimi, traditional and maki style sushi nori maki, mame maki and VIP maki if you feel like eating something more than special and rare.
Maki's menu continues to evolve as they strive to create culinary dishes that will both inspire and excite their customers.
Not Your Typical Japanese Restaurant
It is true that most fast food restaurants bank on the fact that people are too busy to prepare their meals and it is what makes them successful in the industry. But Maki is different. They always make sure that what they offer every day is special and guarantees customers to experience that rare and extraordinary encounter with Japanese cuisine.
Maki worked hard to become a well-established brand that can meet the palate requirements of indulgent gourmands all across the mid – east region. Maki may look like a typical family owned business but the truth is, this is not your typical Japanese restaurant. In 2011, renowned Chef Louis Kenji Huang decided to team up with the Zeitoun brothers. Chef Huang has been researching, experimenting and innovating global Epicureanism and his valuable experience enabled Maki to bring together different cuisines and cultures.
To learn more about their story or browse their menu, visit their website at http://www.olivermaki.com/index.aspx. You can also like them on Facebook https://www.facebook.com/makirestaurant?fref=ts and follow them on Twitter https://twitter.com/MakiRest for daily updates.