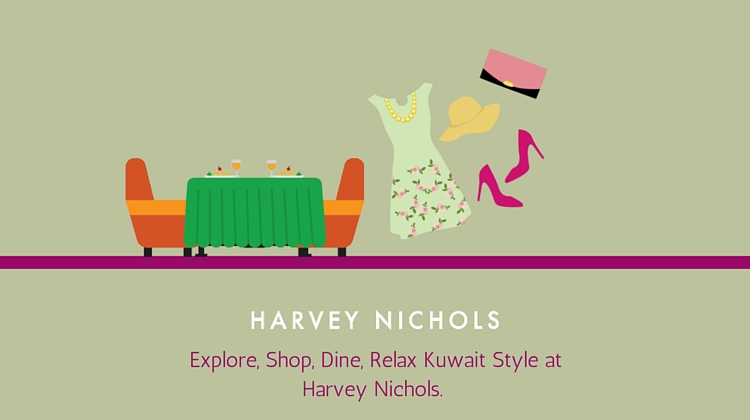 Harvey Nichols has set the standard for excellence in shopping since opening its London flagship store in 1831. The Harvey Nichols Kuwait store launched in fall 2012, offering an unparalleled collection of high-fashion merchandise, beauty products and services, top chef cuisine and impeccable customer service.
Located in The Avenues mall, the Kuwait store is 10,000 square metres of unadulterated luxury. Harvey Nichols holds the distinction as the premier avant-garde department store in Kuwait. Women's designer shoes alone occupy 200 square metres!
Free Personal Shoppers
Maybe you think personal shoppers are reserved for A-listers and billionaires. Not! When you shop Harvey Nichols, a visit to the Personal Shopping Department is a must-do. A fashion expert serves you tea and leads you to a well-appointed changing room. Personal shoppers act as your fashion advisors about 'what-matches-this and does-this-look-good-on-me'.
They can help you to dress up, show you ideal accessories and act as final deciders between different frocks when you can't make a decision.
Beauty Products
Harvey Nichols hand selects beauty products and elegant fragrances from legendary names. If you've always wanted to enhance your style, beauty advisors are on staff to guide you toward your signature fragrance, ultimate skin care, and make-up options.
Skin Jewelry Oh my!
Want to try something delightfully different? Harvey Nichols pioneered a prestigious collection of skin jewelry, exclusively in Kuwait. Ancient henna art served as inspiration for this preeminence in jewelry, described as somewhere between "body artand haute couture".
Skin jewelry is crafted from exquisite materials such as Calais lace, fine diamonds, glitter and 24K gold. It is affixed to the skin using hypoallergenic, dermo-adhesive technology.
Veranda: Signature Restaurant
Enjoy serene dining after a whirlwind day of activities. Veranda at Harvey Nichols is the spot to see and be seen in Kuwait.
"Food and Travel" voted the Veranda "best casual restaurant" in Kuwait for 2016. "The Culture Trip" included Veranda on their list of Top Ten Restaurants in Kuwait City.
An epicurean's delight, the restaurant offers a blend of Mediterranean and Middle Eastern dishes, with a dash of Asian fusions. From "First Bites", such as a crostini with melted mozzarella, topped with tiny grilled tomatoes and a drizzle of balsamic vinegar to a dessert of chocolate mint mousse, Veranda takes you on a fantastic food voyage.
Or, if you want a place to rest your shopper's feet, pop into Veranda for Afternoon Tea. Choose from two options – the complete tea service or the mini-tea with desserts, scones, clotted cream and tea or coffee.
Contact Information:
Harvey Nichols Kuwait Location: The Avenues, Al-Rai, 5th Ring Road, Telephone +965-2228 3008.
E-mail them: [email protected]
Instagram: https://www.instagram.com/harveynicholskuwait/
Like them on Facebook: https://www.facebook.com/HarveyNicholsKuwait/