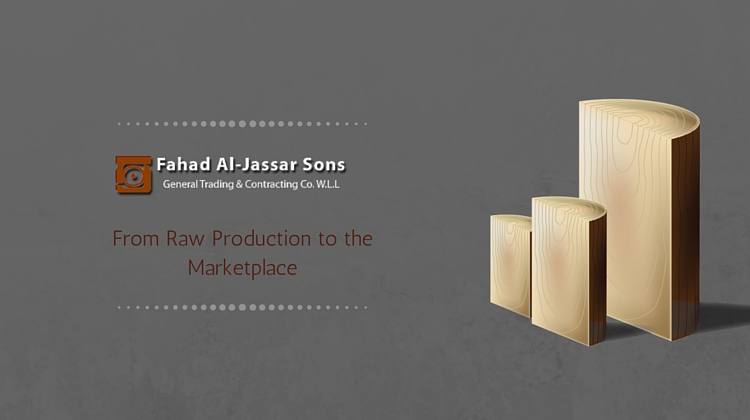 Fahad Al Jassar & Sons is one of the oldest general trading and contracting companies in Kuwait and the entire Gulf Region dealing in the timber business. Establishing its business in 1953, company founder Fahad Abdul Rahman Al-Jassar started its trade by importing timber from India and the Far East.
Originally, the company headquarters were located on the sea side right at the main highway of Arabian Gulf Street covering an area of 3000 sq.m. In 1970, the company decided to transfer to Timber Market located in the Shuwaikh Industrial area on Bank Street. At present, Al Jassar has three branches; one in Jahra, Ahmadi and Kuwait city with its main headquarters in Shuwaikh.
From Raw Production to the Marketplace
Al Jassar's comprehensive customer base and timber marketing experience provide the company with the capacity to offer its customers with high-quality timber products sourced from premium mills around the globe at reasonable prices. With the company's logistically efficient and modern facilities, Al Jassar provides quality service to its customers with guaranteed delivery on time and the adaptability to make sure that the construction is on schedule. Their commitment to timely deliveries is made possible by using a fleet of up to date delivery vehicles capable of meeting all logistical requirements of their customers.
Efficient and Quality Customer Service
Al Jassar is proud of its customer service that can provide creative and custom tailored helpdesk solutions capable of meeting the various needs of clients worldwide. Their customer service staff is friendly and knowledgeable trained to surpass the customer's expectations. With their comprehensive knowledge about the business, Al Jassar staff can help you with your project planning without obligation cost quote and can be accessed via telephone or online. They offer a highly reliable and customized service which customers can take advantage of using the hands-on approach and extensive expertise and knowledge.
To learn more about their products and services visit their website at http://website.al-jassar.com/. Join their online community and follow them on Twitter at http://www.twitter.com/https://twitter.com/JassarWood to access daily updates about company promos and other vital information you may need.