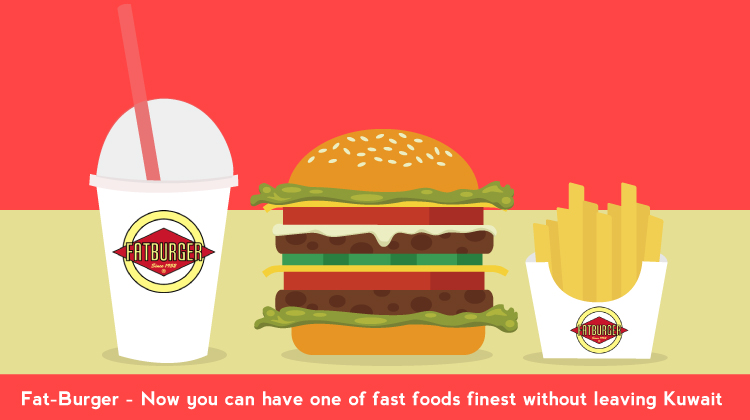 Fatburger is a North American fast food company more than 60 years on the market. In that time, Fatburger has managed to open over 150 franchises around the world, and it has now arrived in Kuwait!
Fatburger has opened three different stores in the city of Kuwait. One of the franchises is located in Avenues mall, the other one in Jaseem tower and the last one in Spoon Salem Sabah.
The last great hamburger stand
The company opened in California in 1962. There are two main reasons why this restaurant has managed to survive throughout time: quality and adaptability.
Fatburger's burgers, fries and shakes (Fatburger's main dishes) have remained untouched since their creation, which has allowed the company's customers to evoke the pleasures of their first fat burger over and over again. This feature has made the quality of Fatburger's dishes reliable, building the company a reputation that food companies rarely ever reach.
However, tradition is not the only thing you can find at Fatburger.  A good example of this welcome change is the introduction of Veggie burgers and gluten free buns. Both products have allowed all to experience the joy that is a Fatburger.
Fatburgers know that size does matter
The company has nine different 100% beef-made burgers, all of which come with tomato, lettuce, onion, pickles, mayo, mustard, and crown and heel bread. However, if you want to make your Fatburger even fatter, you can choose among their add-ons (cheese, chilli, egg, onion rings and gluten free buns) and add as many as you want.
If none of the menu options seems big enough, and you are a fan of challenges, don't worry Fatburger has exactly what you are looking for! The XXX burger challenge is a great way to a great way to see what you are capable of. This burger comes with three patties and cheese, with French fries at the side of it, a burger that makes even the bravest to tremble in fear. Conquering this challenge with not only make your belly full but it will also give you a certificate that proves what you've done.
Don't have time but still want to enjoy a burger?
Fatburger didn't get this far without giving its customers something special. In Fatburger, the food is not served in the same way as it is in self-service fast food chains, as in here the food is brought to your table. A characteristic that allows you to relax and fully appreciate your visit. Another feature that distinguishes this chain is that it offers both food delivery and takeaway, giving you the option to enjoy your meal in the comfort of your home.
So remember if you want to try a new burger, or you want to challenge yourself don't forget to visit Fatburger stores in Kuwait City or visit their web page http://www.fatburger.com/menu/ or relax and order something to eat at home by visiting www.talabat.com/kw/en/restaurant/1539/fatburger-kuwait. Finally you can follow them on Instagram  for extra info https://www.instagram.com/fatburger/