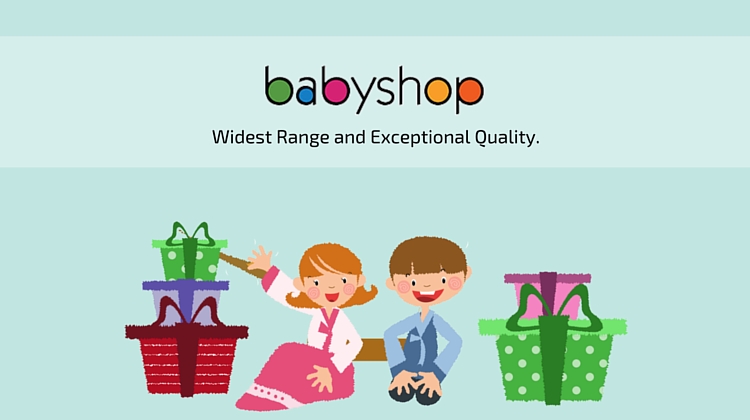 The arrival of a new baby should be a time of joyous celebration, but it can also be stressful. That's why Babyshop prides itself on providing new parents with the best and most comprehensive ranges of baby related goods and services. Now Kuwaiti parents can enjoy the best products from a company that not only provides great value and products for newborns and toddlers but also has a wide selection for kids of all ages – right up to tweens and teenagers. Babyshop also caters to the needs of expecting moms. In fact, Babyshop is a one stop destination for everything that kids of any age could want to be stylish and comfortable. Ever since the first Babyshop opened in 1973 in Bahrain, it has been providing choice and style for moms and kids and now the chain has expanded to provide this choice to families in Oman, the UAE, Jordan, Pakistan, Kuwait, Qatar, KSA, Yemen, Libya Egypt, Lebanon, Kenya, Tanzania, and Iraq. Wherever you need quality kids and babywear, as well as the widest range of accessories, you'll find a Babyshop ready to help.
Widest Range and Exceptional Quality
The Babyshop network of 210 stores offers a world beating range of products. Whether you're shopping for basics, toys, and gifts, fashion, or even furniture, Babyshop will have what you're looking for – all at exceptional prices. In fact, Babyshop also stocks home safety and travel accessories so you can have peace of mind of knowing a baby will always be safe and secure no matter where you are. With products from global leaders like Lee Cooper, Graco, Maclaren, and Maui & Sons, Babyshop stocks everything parents and kids could ever want. Babyshop also stocks the ever popular range of Disney related products, as well as toys and educational materials from brands such as Fisher Price and Little Tykes. For even greater savings and exceptional quality are found in the Babyshop in-house brands such as Juniors and Giggles, making shopping both fun and a great value for money.
The Caring Company
Babyshop not only provides exceptional range and choice, but it is also committed to making a difference in the lives of children across the world. The Babyshop corporate responsibility programs include the much respected 'Child Safety First' initiative which was started in 2005. This program has helped identify the risks children face every day and make a real difference through the provision of a full range of safety equipment at reasonable prices. Community programs in the Middle East, which emphasize child safety while travelling, have also been recognized by the Transport Authority of Dubai, the Health Authority of Abu Dhabi, and the Royal Oman Police.
Learn more about Babyshop
If you would like to know more about Babyshop, then visit http://www.babyshopstores.com/ or contact +965-22472858. You can also visit our flagship store behind Awqaf Mall, Mubarak Al Kabeer Street – Kuwait City, Kuwait. Get even more baby-related info at www.facebook.com/BabyshopArabia.