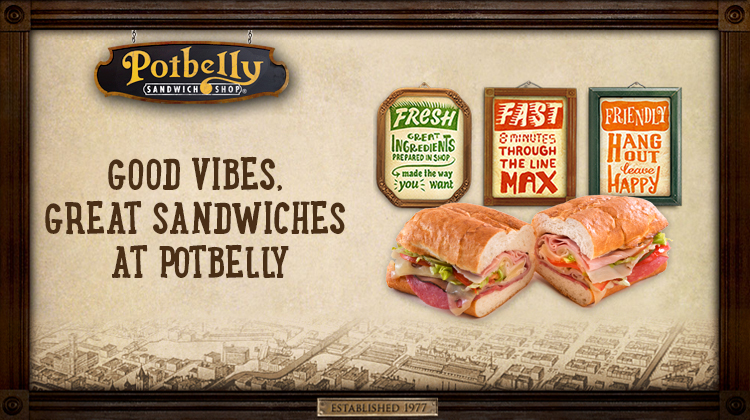 Potbelly, Chicago's beloved sandwich joint, has made its way to Kuwait, offering toasty sandwiches stuffed with delicious meats and cheeses, tempting fresh salads and soups, and delightful desserts.
Since its humble beginnings in 1977, when a small business in Chicago started selling toasted sandwiches to boost sales to their antique shop, Potbelly has evolved to become the city's favorite joint with its one-of-a-kind, irresistible sandwiches.
How to Potbelly
Potbelly sandwiches are customizable down to the very last detail, in order to provide customers with their unique, perfect sandwich creations. A choice of 3 types of bread is available: regular, multigrain wheat for a healthier option, and thin-cut for less bread. Extra ingredients such as mushroom, cheese, bacon and extra meat can be added to the sandwich, and each is oven-toasted one by one. Finally, the sandwiches are drizzled with a wide variety of sauces, including traditional mayo and mustard, and toppings, such as vegetables, oil, and seasonings.
Tantalizing menu with delicious range of finger foods
The top recommended sandwich at Potbelly is definitely the Wreck, a wholesome sandwich filled with beef salami, roasted beef, turkey breast, smoked turkey and melted Swiss cheese. Another hot favorite is the Clubby, with turkey breast, smoked turkey, beef bacon and Provolone cheese between fragrant buns. The innovative Pizza Sandwich filled with pepperoni, mushrooms, Marinara sauce and Provolone cheese is also a must-try.
Salads are made to order and feature the freshest and best ingredients. Try the Farmhouse with Chicken, an appetizing salad with grilled chicken, eggs, beef bacon, blue cheese, cherry tomatoes, cucumbers and red onions, or the Uptown Salad, featuring grilled chicken with cranberries, grapes, apples, blue cheese and candied walnuts for a sweeter option.
Potbelly's range of soups includes the tasty Cream of Potatoes, the eclectic Broccoli Cheddar, and the Chili soup for the adventurous. Shakes and non-fat frozen yoghurt smoothies in a range of different flavors including chocolate, vanilla, Oreo, coffee, banana and more, provide customers with a healthy yet juicy choice of beverage to complete the meal. Customers with a sweet tooth can also opt for homemade cookies or ice-cream sandwiches to end off their meal.
Experience Potbelly
Potbelly is located in the Food Court at Phase 2 of The Avenues Mall. Call +965 2258 1997 to make reservations at the restaurant, which is open from 12.00 p.m. to 2.45 a.m. daily.
Delivery options are also available through Talabat, with special group portions for sandwiches, salads, and soups. Visit http://www.talabat.com/kw/en/restaurant/465/potbelly-kuwait to order online and view the complete delivery menu.