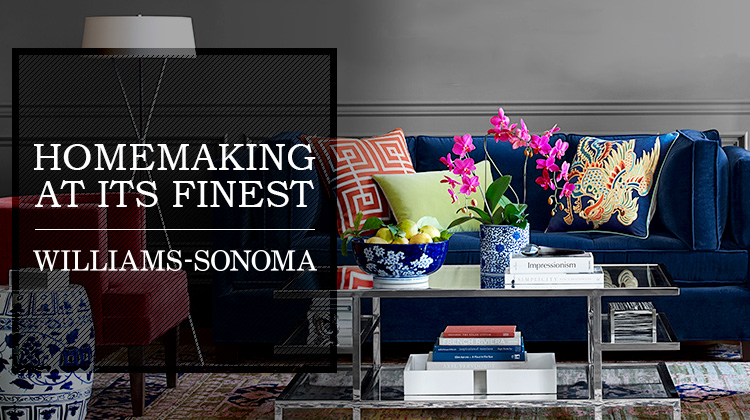 "Inspiring cooks everywhere"
Where it all began…
Whether you're cooking for your family in the peaceful setting of your own home, or preparing exquisite meals for an upscale restaurant in the busy city, William Sonoma offers a wide range of quality products to fit your personal and professional needs. Experience the finest products to suit all of your household necessities, and then some. Williams-Sonoma Inc., was founded in 1956, where their first store opened selling imported products from France, and is now a well-known housewares store with 250 operating stores worldwide. Experience the joy of a pristine living area, with all your wants and needs.
What they have to offer
Williams-Sonoma showcases anything from bakeware, appliances, living room and kitchen essentials to even chicken coops. Williams-Sonoma wishes to make all your fundamental dreams come true, by presenting you with a wide variety of tools. The tools and products available are extensive, you're guaranteed to find exactly what you're looking for. The quality of their products is outstanding, however, some can be a bit pricey. Keeping in mind that you are most definitely making a sound investment by choosing to purchase through Williams-Sonoma, from every tool right down to the stove your cooking on. Not only are these products long lasting they are visually appealing to the eye to give your kitchen the sparkle it deserves. Another benefit is that they also carry a variety of different brands, allowing you to precisely pick and choose the perfect product with all the features you desire.
Bonus features
After all that they have to offer, it's pretty remarkable that they still have so much more to bring to the table. They have beekeeping kits, camping gear, gardening tools as well as seeds and plants, outdoor furniture plus outdoor dinnerware, to top it all off they even have food. They have meats and seafood, desserts, appetizers, even fully made meal items available for purchase. The opportunities that arise from this company are endless. You can order all of these items right off line or by visiting the nearest store to you.
Please share your experiences with us, and also share with your friends!
Contact:
<http://www.williams-sonoma.com/>
Location: The Avenues Mall, Kuwait City
Phone: +965 2259 7777