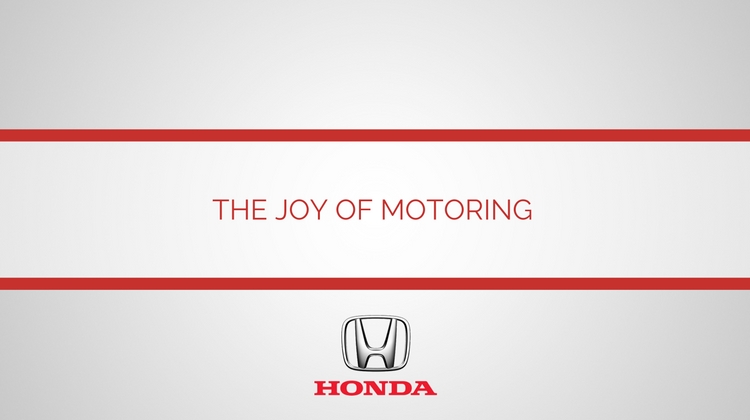 If you've ever put your foot on the accelerator in a Honda motor vehicle, you know why joy is the factor that keeps drivers coming back and makes engineers from this cutting edge company continue building automobiles. There's something special about this company. The world's largest motorcycle company and the manufacturer of some of the most iconic automobiles in the world provide drivers with a unique experience – and that's what keeps Honda's wheels turning. It's all about individuals at Honda – and now automobile owners in Kuwait can enjoy that Honda difference. With Honda it's not only about the car – it's about people.
Motoring Happiness
Driving a Honda is not just a motoring experience – it's a part of your life, and that's what the engineers at Honda keep in mind all the time. These people know that each and every moment a customer spends in a car is precious. Every Honda motor vehicle is built to be part of the client's life – and at Honda, the specialists know that the way a client or driver moves from place to place is important – it's a partnership. From the moment the wheels start turning to the moment a Honda driver steps out of the vehicle at their destination, it's a partnership. Every Honda owner is part of an experience that should be filled with joy – that's why the engineers at Honda are committed to making your life better.
Every Moment
Getting behind the wheel of a Honda motor vehicle is the start of a journey filled with joy. At Honda, that happiness is represented by their engineers, designers, and sales staff. It is not just a car – it's part of a driver's life. At Honda, the management believes a car should not just be a mechanical contrivance to get a driver from A to B – the motoring experience should be one that is filled with joy. It is this mission that makes the people from Honda respect the driving experience and the people who enjoy the motor vehicles that are produced by the company. Ever since 1948, when Honda was established, the people behind the brand have been committed to the joy and success of the drivers – that is what has made Honda the global automotive force it is today. With 507 subsidiaries and a name that is known across the world, Honda is now proud to be part of Kuwait society.
Driving Kuwait
If you'd like to know more about Honda in Kuwait then visit one of their showrooms at Alghanim Honda Cars Showroom and Service Center – Al Rai, Alghanim Honda Cars Showroom – Shuwaikh, Alghanim Honda Spare Parts Center or call +965 1822777 or +965 24964300. Or surf on over to www.facebook.com/alghanimhondakw