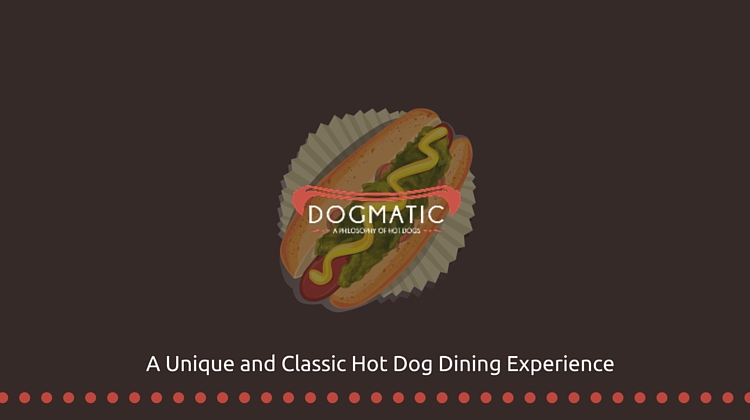 Whether you like old-fashion hotdogs based on the classics, like to experiment with new types, or want to create your own, Dogmatic is ground-zero for great hot dogs. Even if hotdogs aren't something you usually go for, the hotdogs and dining experience at Dogmatic is something everyone should try. And for the hot dog lover out there, Dogmatic is your place for hotdogs and a classic hot dog ambiance.
A Philosophy Of Hot Dogs
Dogmatic not only serves a wide-variety of high-quality hot dogs but they go a step further and are dedicated to "The Philosophy of Hot Dogs."
Opening in The Cube Mall in Salmiya in 2015 with a new location in Abu Hasaniya scheduled to open in June 2016, the restaurant offers fine hot dogs at affordable prices.
What kind of hotdogs does Dogmatic offer? First, the restaurant takes classic hotdogs as well as hot dog dishes from around the world and upgrades them with quality interpretations and quality ingredients. Want to make your interpretation of a hotdog? Want extra chili? Or no cheese? At Dogmatic, not only can you get the classic hot dogs from around the world but you can also customize your own hotdog. Simply tell the Hot Dog Philosopher at the custom hot dog cart located inside of Dogmatic how you would like your hotdog and you can have it.
A Unique and Classic Hot Dog Dining Experience
Besides the plethora of quality hot dog dishes and a la cart hotdogs available at Dogmatic, another reason to visit the restaurant is the awesome shakes and side order selection that they offer as well as the ambiance.
Dining at Dogmatic is unique with its charming and friendly atmosphere as well as the friendly and courteous staff. Diners can choose to sit at the bar-like seats in front of large windows which allows the guest to view the action on the streets including the passer-by, or, guests can enjoy one of the dining room booths- relax and eat in comfort with friends.
The interior of Dogmatic is charming and fits the mood of a high-quality hot dog restaurant as well as with the sensibilities and style of the community and The Cube Mall. In addition, the interior pays homage and tribute to the history and past stories of diners and the street vendor's hot dog tradition in Boston and New York.
Visit Dogmatic today and partake in classic, high-quality hot dog dishes. Get more information including location and menu at dogmatickwt.com.