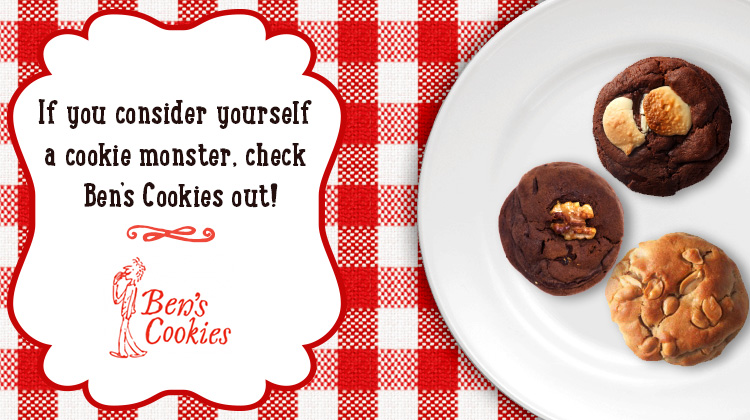 When it comes to food, success usually relies on reputation. So what does it takes to have one of the world's best restaurants? Well, the chefs working at Ben's Cookies seem to have the recipe for success!
The cookie empire that started with a single store in Oxford over 30 years ago, has now opened branches across Europe and Asia, becoming one of the world's biggest cookie chains in the world.
Palace worthy cookies!
Ben's cookies recently opened a branch in Seif Palace and the Avenues Mall, two of Kuwait's most exclusive locations. The cookies made follow the exact same recipe as the ones made in England. A taste of England found in Kuwait!
If you have a busy life filled with travel, fear not! You can still enjoy the same taste of this company's cookies in any of their more than 20 stores worldwide. In some locations the food can be delivered to your door.
Cookied to perfection!
According to the more than 500 reviews on Ben's cookies available in TripAdvisor.com, Ben's Cookies are not only good, they're amazing! The reviews on TripAdvisor place this company among the top restaurants in London with an average 4.5 star grade.
Ben's Cookies was ranked among the first 75 restaurants out of the 20000 places to eat in London, proving that these cookies have hit the sweet spot in more than one cookie lover.
If you're dying for a cookie, do your sweet tooth a favor and check Ben's Cookies out!
Different from most other famous world restaurants, Ben's Cookies counts on a short and sweet menu. The menu consists of only 15 different types of cookies. Keeping their menu this way has allowed them give the necessary attention to every cookie they make granting the quality and flavor required to run a business with such a good reputation. Here, less truly is more.
You want to eat a cookie, but your health concerns you? Don't worry!
If you are a health-conscious cookie monster you can check the nutritional fact chart that is available on their webpage in order to learn about the ingredients used in their cookies. Even if you don't really care about health when it comes to cookies, check the nutrition fact anyways! If you are lucky enough you may figure out how to make the perfect cookie.
On their webpage, http://www.benscookies.com/ you'll be also able to find cookie flavors, delivery and contact information, as well as a thrilling article on Ben's Cookies humble startup to international recognition. Pay Benscookies.com a visit, and don't forget to stay posted at on their twitter and Facebook accounts—paradise for all of you real world cookie-monsters.
Whenever you are feeling like getting a cookie, go to Ben's Cookies and check what they've got in store for you, and if you are not feeling like it and you just want to keep updated with their new releases don't forget to take a look at their twitter account!