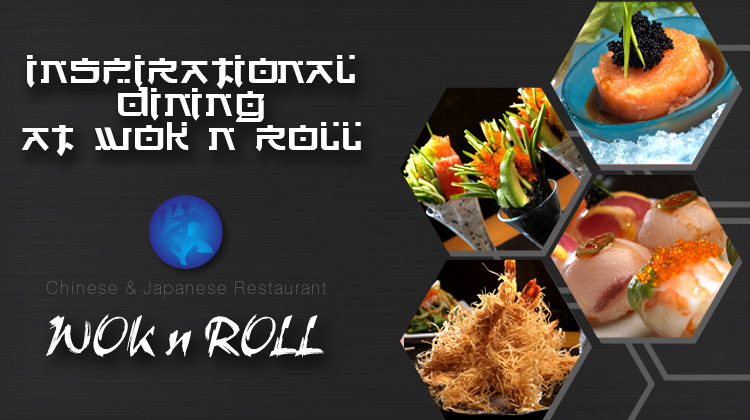 The wok, a round cooking pan that originated in China and is an essential utensil in Chinese stir-fry cooking. The roll, or maki, a traditional sushi dish from Japan that is prepared by rolling rice and other ingredients wrapped in nori, or seaweed. WOK n ROLL is an upcoming chain of restaurants that has worked to create a beautiful fusion between these two concepts; a true union of the best of Chinese and Japanese cuisine.
Traditional fare with a modern twist
Since the opening of its first branch in Jabriya back in 2003, WOK n ROLL has worked to perfect its repertoire of dishes to offer amazing and unique cuisine. Their exclusive style of cooking features passion and innovation to add a brand new twist to traditional dishes, making each and every bite nostalgically familiar yet completely novel.
The interior design is based on soothing shades of brown, with wood flooring and cool stone walls. Chic blue lighting adds the final touch to create a slightly sophisticated ambience, and when coupled with delicious food, it is easy to lose track of time while dining at this restaurant.
Mouthwatering Asian dishes
WOK n ROLL has a whole series of Chinese and Japanese cuisine on offer to suit every customer's tastes. For starters, try out their signature dish, the Tani-Ma Salad, a juicy concoction of fresh shrimp mixed with green soybeans, lettuce, and avocado in a sweet sauce. Those who love sushi can opt for the Ebi Tani Maki, shrimp and crab rolled with rice, with a tinge of spicy sauce, or the Fire Haitham Maki, a hot favorite featuring tuna sushi and chilli slices. Fresh sashimi is also available, and choices include salmon, yellowtail, tuna, eel, crab and shrimp.
WOK n ROLL puts a spin on traditional Chinese dishes that is not to be missed. Go for the Wanton Prawns, Crispy fried shrimp served with wontons and a herb mix, or the Pineapple Rice, a zesty dish of rice fried with prawns, pineapples and vegetables. Meat lovers will be delighted with the Mongolian Beef, with a choice of local, Angus and Wagyu beef marinated in soy sauce and fried with onions, and the Szechwan Chicken, a fiery dish sauteed in garlic sauce. For seafood, be sure to try the signature dish of lobster grilled in cream sauce.
Always leave some room for dessert, as there is a tantalizing selection available. Try out the Kinomi Ice Cream, served with fresh strawberries and raspberries, or the unique Choco and Green, a fusion of chocolate cake and green tea ice cream.
Dine at WOK n ROLL
There are currently two branches, at Jabriya and the Avenues Mall, operating from 12 p.m. to 11:30 p.m. daily. Call +965 2259 7046, or send out an e-mail to [email protected] to make a reservation. For delivery, call +965 2531 0857 or +965 2531 0858 to place an order.
Visit WOK n ROLL's official website (http://woknroll.com.kw/) to find out more about the restaurant and browse the delivery menu, or follow them on Instagram (https://instagram.com/woknrollkw/) for updates and promotional deals.