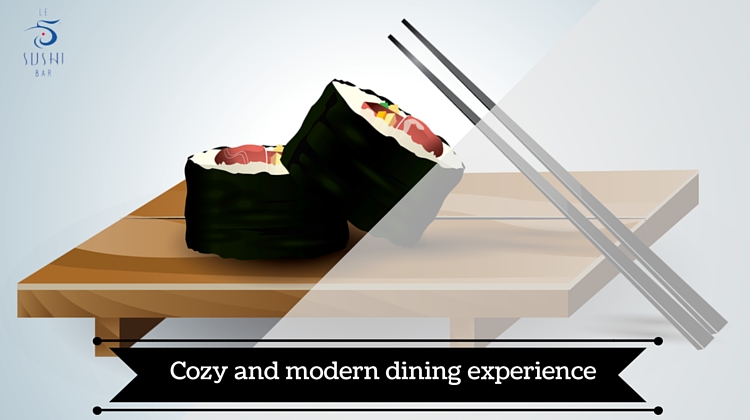 With countless Japanese restaurants and eateries popping up around Kuwait, it has become increasingly challenges for new businesses to distinguish themselves from the rest and bring in the customers. However, Le Sushi Bar, first established in Lebanon, has managed to attract good attention and rise above the competition. Considered one of the best Japanese restaurants in Lebanon, their winning strategy is to offer a delicious menu that can only be found at Le Sushi Bar.
Cozy and modern dining experience
Dining at Le Sushi Bar is indeed an experience in itself. With a simple design based on a traditional wooden bar and tables, the restaurant can comfortably seat up to 170 customers. Private rooms with large windows overlooking Kuwait City are also available for reservation for special group functions. Embracing technology, the restaurant provides customers with mobile menus built into portable iPads, complete with high resolution images of dishes and detailed food descriptions for easy, fuss-free browsing and ordering.
Unique seafood-based Japanese cuisine
Le Sushi Bar starts off each dining experience with a simple complementary starter dish of ginger and cucumber. Edamame beans in a variety of flavored sauces such as black bean, chili garlic and miso butter are available for order. There is also a large selection of fresh salads to choose from, such as the Flamed Salmon salad served with salad greens and wasabi vinaigrette sauce, the Salmon Illusion salad with diced salmon, avocado, grapes and nori seaweed sprinkled over crispy rice, and the Symphony salad, a delicious mix of greens and sweet potato in the chef's special sauce.
Diners can start off with the restaurant's selection of small plate dishes. Hot favorites include the Lobster Mango Ceviche, with fresh lobster mixed with mango and marinated with citrus and coriander, the Baked Snow Crab in a creamy spicy sauce, the Apple Tori Katsu of chicken coated in breadcrumbs and cheese, served with creamy fish sauce, and the Koshiyaki Shrimp, skewered tiger prawns coated with a sweet glaze.
Le Sushi Bar is probably most famous for the wide range of makis, or rolled sushi. With over 50 types of dishes, each coming with creative names such as Cheesy Dragon, Crazy Shrimp and Spicy Lady, dining is never a boring experience. Dishes recommended by customers include the Cheesy Dragon, featuring breaded shrimp wrapped in avocado and topped with cheese and spicy salsa, Crazy Shrimp dressed in a crispy wrap together with togarashi and flying fish roe, the Spicy Lady, a delicious wrapped mix of yellowtail, salmon, Korean kimchi and tuna, and the bestseller Eron's Secret, featuring salmon, spring onions, creamy spicy sauce, flying fish roe and coriander wrap.
The restaurant also serves traditional Japanese fare with a unique twist. Two must-try items are the Beef Ramen, with homemade noodles in a delicious soup, topped with seared beef fillet and shiitake mushrooms, and the Spicy Crab and Shrimp With Guacamole. There is also a wide selection of sashimi, with ark shell, eel, scallop, octopus, sea urchin, clams and a whole variety of different fish, such as yellowtail, grouper and mackerel.
Experience Le Sushi Bar
Le Sushi Bar is located in the Al Hamra Luxury Center in Sharq, and opens from 12:00 p.m. to 11:00 p.m. Call +965 2227 0300 to make a reservation, or visit Talabat to check out their full menu and for delivery options. Follow any of their social media pages for more information on new dishes and other updates.
Talabat: http://www.talabat.com/kw/en/restaurant/1161/sushi-bar-kuwait
Instagram: https://instagram.com/sushibarkw/
Facebook: https://www.facebook.com/LeSushiBar