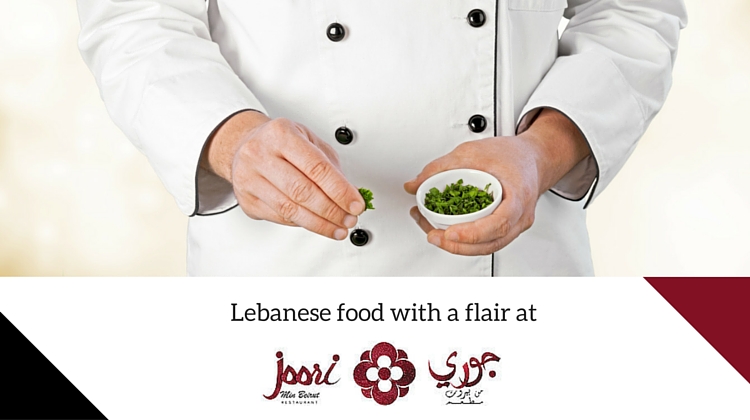 Opened in 2014, Joori Min Beirut is a spectacular fine dining restaurant located in Jabriya, Kuwait. The restaurant has earned itself an incredible reputation in just a short time, renowned for its consistently high quality of food and service.
A modern Lebanese restaurant, the menu offers a certain level of flair but is not so creative as to alienate or put off different clientele. Offering lunch, dinner and snacks in between, the restaurant is also well-known for being good value for money.
The restaurant is also the perfect place to meet friends, impress colleagues or have a romantic meal – with a relaxed yet stylish atmosphere that crates the perfect backdrop for the ultimate dining experience.
Joori Min Beirut serves traditional Lebanese food with a twist in a high-end ambience that makes this restaurant stand out from the crowd.
 <h2>Traditional Lebanese Food</h2>
Traditionally, Lebanese cuisine is focused around starches, whole grains, fruits and vegetables, fish and seafood, red meat (particularly lamb) and poultry. Much of what Lebanese people eat is dependent upon the season and changes depending upon the availability of fresh ingredients.
Lebanese food is definitely the most popular cuisine across all of the Middle East due to the intense flavours and surprisingly simple recipes. Joori Min Beirut has taken traditional recipes and favourite dishes, and recreated them in a way that suits a fine dining restaurant.
<h2>Why Joori Min Beirut is different?</h2>
The team at Joori Min Beirut create high-end Lebanese cuisine, focusing on finding a delicate balance between authentic and traditional dishes and gourmet flair.
The interior of the restaurant is modern and bright, bringing to mind the interior of a luxurious Lebanese palace, with elegant and stylish furnishings completing the ambience. Rustic lanterns surround you as you dine and the carefully created menus complement the atmosphere entirely.
Although everything on the menu is absolutely fantastic and should be tried, there are a few dishes that have fast become huge hits with both local visitors and tourists.
To begin your meal, browse the selection of mezze and choose your favourites to whet your appetite and get the juices flowing. Then try the Hummus Joori and Shish Tawock for flavour sensations that will leave you wanting more. Afterwards you can't go wrong with the incredibly tender and lean lamb kebabs complimented by your favourite salad.
A visit to Kuwait would not be complete without a meal at Joori Min Beirut, the perfect venue for a catch up with friends, celebration or romantic evening out.
<h3>Other Contact Information</h3>
Telephone: 51644119
Facebook: https://www.facebook.com/JooriMinBeirut/info/?tab=page_info
Twitter: @JooriMinBeirut
Instagram: https://www.instagram.com/jooriminbeirut/