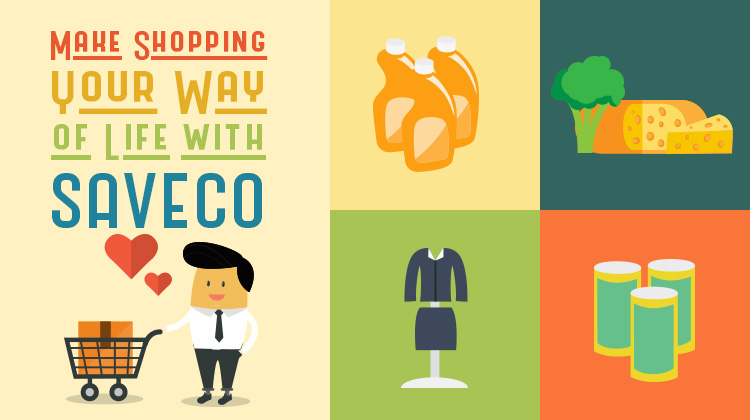 Since the turn of the century, mega marts have been making their presence felt in our everyday lives, with the provision of extensive services that go far beyond just being your average supermarket. Following in the footsteps of famous Western marts such as Walmart, Target and Tesco, saveco is fast becoming the largest wholesale and retail mega mart in Kuwait.
What makes saveco successful?
saveco's success comes largely from offering a wide range of items of various brands imported directly from global suppliers. Despite that, prices remain low and competitive, which offers the best of both worlds to the customers by offering both variety and savings.
What also distinguishes saveco from the run-of-the-mill supermarket is its dedication to provide a true lifestyle experience for its shoppers. Not only does the hyper mart boast a huge selection of goods and items, the premises also include a café for customers to have a bite and rest their feet, a whole range of special departments for clothing, electronics and more, as well as a play area to provide entertainment for the children while their parents shop. With all these facilities in place, it isn't hard to imagine the mega mart as a true shopper's paradise.
In addition, saveco is also the sole retailer of Tesco products in Kuwait, making their range of merchandise even more attractive and exclusive.
What is available at saveco?
saveco works to offer shoppers with a great diversity of merchandise under one roof, and goods include apparel, electronics, household and pet, groceries, fresh foods, health and beauty products, home items, as well as niche departments like party supplies and goods for kids and babies. saveco has also started offering special categorized products, such as gluten-free and organic items.
For shoppers who find that they do not have the luxury of time to visit the hyper mart, saveco offers an online web store that allows customers to browse through their items on the Internet and place orders. With more items to be added to the online store in the future, shoppers will soon enjoy the convenience of shopping from their own homes, with delivery of their orders right to their doorstep within four short hours.
The mega mart also works to reward loyal customers and attract new ones by constantly putting up attractive offers on popular products. New goods are also advertised on their various social media pages to keep shoppers informed on the latest imported goods and brands for the ultimate shopping experience.
Visit saveco
The saveco outlet is located at Al Rai Nursery Area in Building 18A, along 4th Ring Road, and open 24/7. Inquiries can be made through phone at +965 182 1050 or +965 2228 7700, or via e-mail at [email protected].
For online shopping, visit their web store at http://shop.saveco.com/, where you can place orders through the Internet. Alternatively, orders can also be placed through WhatsApp at +965 9662 1778. To find out more about promotions and deals on products, check out their official website or follow them on social media platforms.
Official website: http://www.saveco.com/
Facebook: https://www.facebook.com/pages/Saveco/218402604882869?sk=info&tab=page_info
Twitter: https://twitter.com/savecoQ8
Instagram: http://instagram.com/saveco