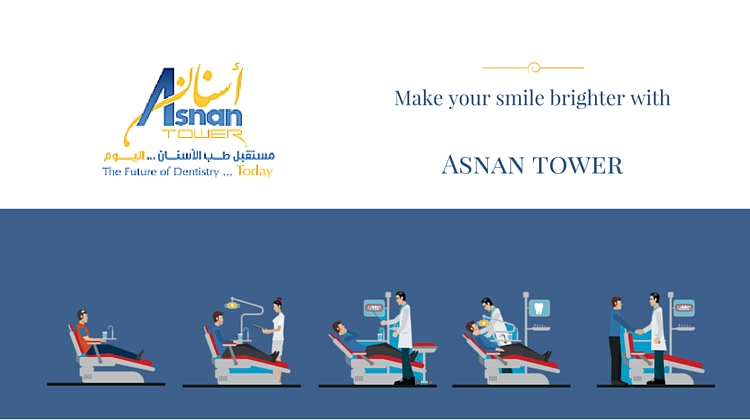 Most people are not aware that a lot of dental issues do not necessarily display any signs of pain until it becomes a bigger problem. There may be existing dental problems that you are not aware of so it is always recommended that you get a simple cleaning and checkup at the dentist every six months. Asnan Tower, Kuwait's premier dental experts, has earned a terrific reputation for providing the best quality, affordable specialized care and general dental care such as teeth whitening.
Highly Educated Doctors and Staff
The dentist have been educated from the best dental schools in the US, the UK, and Canada. They frequently use the newest technologies and techniques to attend to the patient's specific dental requirements. Asnan is the first dental practice in Kuwait to strictly follow the dentistry standards that the United States follows. It's also offers a dynamic array of state of the art technologies all conveniently located in one in the Asnan Tower. Lots of dental practices would have to refer you to several different offices and locations to achieve the same care as one can at this dental care.
Have Your Kids Ever Been Excited to Go to the Dentist?
Every child should be given proper dental care from the age of infancy and on. One of the unique factors about this dental clinic is the pediatric dentistry. Asnans dentists are specially trained to attend to children. A whole floor of it dedicated to children. The entire floor being a playground-like atmosphere with bright colors and a level of edutainment to help teach your kids about the importance of oral health! You may find that your children are more willing to visit the dentist after they experience Asnan Kids.
you may want to check out Ansan!
Lacking confidence in your smile can be socially distressing at times, so if you've put off the dentist for too long, or are looking for an alternative to your current dental solution, then you may want to check out Ansan. To inquire further about the services and dental treatments Asnan Tower can offer you can visit their website at http://www.asnan.com/ (http://www.asnan.com/en/index.php for English), by phone:+965 25736666, or their Instagram page at https://instagram.com/asnantower/, or via Twitter https://twitter.com/asnantower.