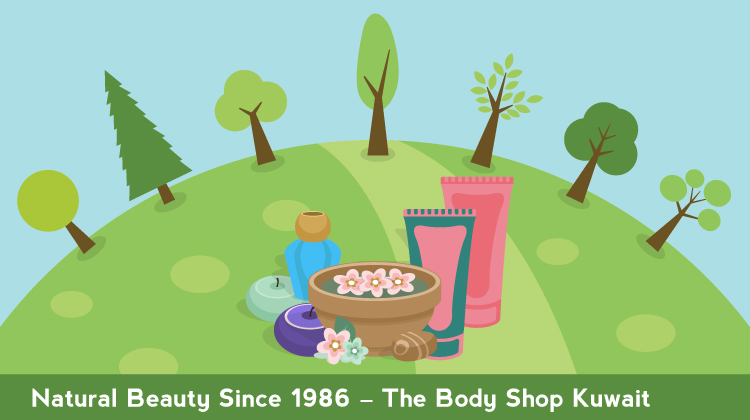 The Body Shop is a brand known worldwide for its cruelty-free products, which has been present in Kuwait since 1986. The company became famous especially for its social activity, in objecting to animal testing and in making community trade. They carry a broad range of products for hair, body, face, fragrances, and homes. Their motto is "Inspired by nature", which is right to their whole philosophy.
40 Years of Success
The Body Shop has been a successful company since its founding in 1970 in the United States, and with the first shop being opened in 1986 in Kuwait, the company has been present in the country for exactly 40 years. Their products can be bought in one of their over 20 shops throughout Kuwait. The franchise itself is based in the United Kingdom and has stores in a total of 65 countries.
A Socially Active Brand
The company is highly concerned about social activism ever since they allied with Greenpeace in 1986. One of The Body Shop's principle rules is that none of their products are tested on animals. The brand has been making community trade since 1987, which means that they always strive to seek out local manufacturers and small-scale providers, to enhance their trade by offering them good trading practices. The Body Shop is also highly active in campaigning throughout the world for good causes. The company owners also founded The Body Shop Foundation, which supports global projects for human and civil rights, environmental and animal protection.
Range of Products
The Body Shop offers a broad range of around 1200 products mostly for skincare, such as body butter, lotions, hand creams, soaps and shower gels. Their fragrances and makeup products are also tremendously popular. All products are made from natural ingredients obtained from their Community Fair Trade program. The company also comes out with limited edition and seasonal ranges with special scents and ingredients designed for the occasion.
The Body Shop In Social Media
You can find The Body Shop on various platforms throughout the internet, but the Kuwaiti line has no local website, but you can browse through the international website to get an idea about the products. You can find The Body Shop Kuwait on Facebook, and can reach the local administration by phone at 965 224 2000. The Body Shop Kuwait also has a very active Instagram profile, with over 8000 followers, that can be found at https://www.instagram.com/thebodyshopkuwait/.