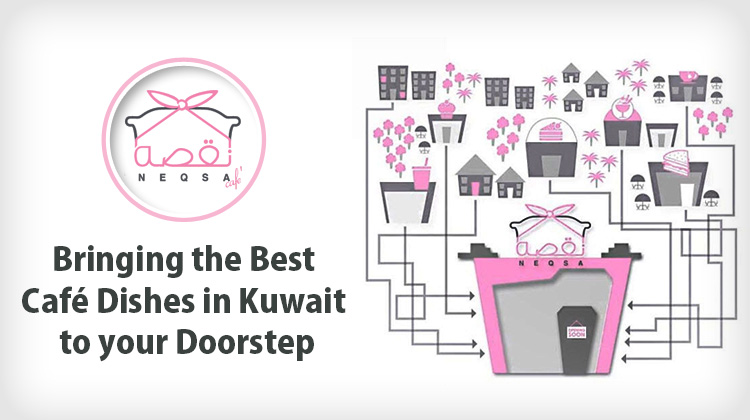 Ever dreamt of a one-stop shop where you can find all the best teatime snacks at your fingertips? Look no further than NEQSA, a local business that brings together the best café cuisine from Kuwait's top restaurants, bakeries and coffee shops. Offering only the most delectable choices of desserts and snacks, you can be sure of having the best buffet spread at your next family or company gathering.
A business with sincerity
Inspired by the generosity of Kuwaiti culture, NEQSA aims to collect the best food and beverage brands under one roof, and to provide a platform for local home businesses to display their products and gain customers. A truly friendly business, NEQSA places emphasis on instilling the values of joy, growth, perfection and experience into their strategies. Upholding their mission of delivering only the freshest, most delicious foods, it is no longer that the company boasts an amazing record of over 300 customers daily.
Wide range of delights from Kuwait's best eateries
The store, located in Salmiya in front of Asnan Tower, offers a tantalizing range of food and drinks from many different well-known cafés. Freshness is guaranteed with crunchy and healthy salads from Salad Yo, delicious sandwiches and cookies from The Baking Tray, oven-baked pizzas from Homeslice, and zesty sushi dishes from W Sushi, to name a few.
As for beverages, NEQSA's best seller is definitely their range of home brewed coffee, made from carefully selected Malongo beans imported directly from France. The selection includes classic favorites like cappuccino, espresso and café latte, regional delights like Americano and French coffee, and frozen treats like mocha shakes, iced latte and frozen coco east. An assortment of teas is also available, including traditional like green tea and chamomile herbal tea, to eclectic flavors like Earl Gray lavender and pomegranate white tea. Don't miss out their homemade special treats, like as the Kubar sorbet and Berry sorbet, ice-blended drinks featuring tropical fruits like banana, raspberry and strawberry.
Unique delivery options
With its goal to bring the best café foods to as many people as possible, NEQSA has a whole host of unique delivery options available to best cater to every customer. For orders through Talabat, you can just place orders on packages depending on the number of persons in your party, and leave NEQSA to select the best desserts available in the store and bundle it into a lovely gift basket to be delivered to you.
Being conveniently located in front of Asnan Tower, the café also has special delivery services just to cater to all guests and staff located there. What's more impressive is the fact that NEQSA is one of the very few businesses who caters to international orders, so anyone who is interested can place an order through the online form on their official website and the goodies will be delivered worldwide.
Visit NEQSA 
NEQSA's Café is open from 10 a.m. to 10 p.m. daily. For information on menus and latest updates, visit their official website (http://www.neqsa.com), or follow them on Instagram (http://instagram.com/neqsacafe) and Twitter (https://twitter.com/neqsacafe).
The team can be contacted via phone at +965 2571 1177, or through e-mail at [email protected].