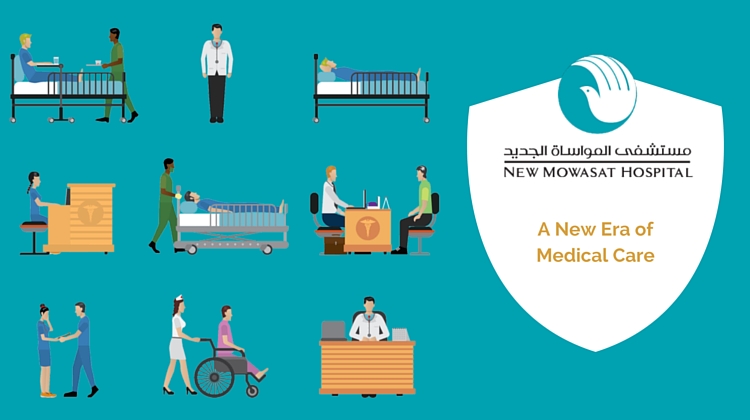 The establishment of the New Mowasat Hospital in 1965 ushered in a new era of world-class medical care for Kuwaiti citizens. The facility is owned by Mowasat Healthcare Company (MHC) which is listed and traded on the Kuwait Stock Exchange. New Mowasat Hospital is part of the Nafais Holding Company, which has as its mission a commitment to maintaining a position as the merket leader in the Gulf region in a number of business and operational segments. Ever since then New Mowasat Hospital has been recognised as the leading provider of state of the art globally competitive healthcare solutions.
In the years after its establishment, New Mowasat Hospital has demonstrated robust growth based on its exceptional levels of care and facilities. Today the hospital boasts 100 beds housed in a luxurious 27,000 square metre facility which offers a wide range of medical services that allow patients access to some of the most advanced medical equipment and respected physicians in the world.
Maintaining Market Leadership
New Mowasat Hospital is focussed on providing state of the art healthcare solutions to patients, as well as providing support services to their families. This includes a commitment to an approach which is characterised by compassion and a commitment to the highest international standards of care. At New Mowasat Hospital the highest levels of care and medical expertise is balanced by a commitment to an optimal working environment that encourages and promotes mutual respect and a collaborative mindset in a professional environment – in this way the organisation hopes to maintain the standards of excellence which have characterised operations since the inception of services in 1965.
Also, New Mowasat Hospital is committed to leveraging the relationship it has built with partners that range from referring doctors and other healthcare partners to service patients better.
More Services
With an extensive range of care options and a fully comprehensive approach to treatment New, Mowasat Hospital stands ready to assist Kuwaitis with any healthcare requirements. The commitment is underscored by a vision to of 'Caring for Generation' which is expressed in the desire to maintain the facility's position as the leader is the delivery of the best and most advanced healthcare to a wide variety of patients across Kuwait.
Further Information
Those wishing to take advantage of the state of the art healthcare facilities at New Mowasat Hospital should visit New Mowassat Hospital, Yousef Ben Hamoud Street in Salmiya. For further information contact +965 25726666. More information can be obtained at www.facebook.com/NMowasat/app/?sk=app_106171216118819 or www.youtube.com/channel/UCZ3z_V4sA3PhIBxVrHEkt_g