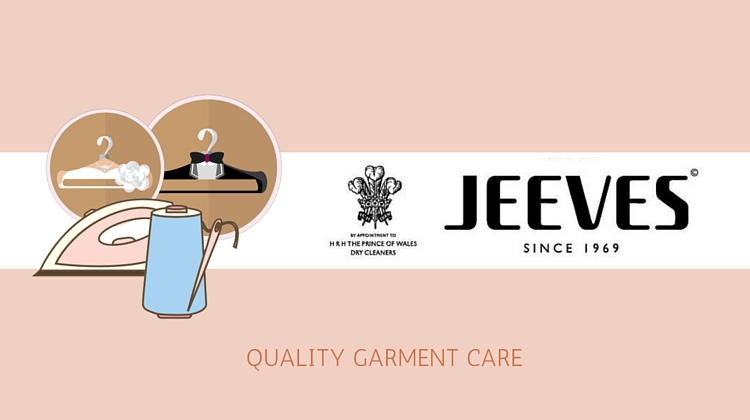 One of London's most excellent dry cleaners is now in Kuwait. Jeeves Kuwait specializes in designer garments and premium leather care making use of all natural and organic cleaning solvents to make sure the items are not damaged.
London's Finest Dry Cleaners
Not your run of the dry mill cleaners, Jeeves Kuwait, provides boutique style dry cleaning service focused on professional fabric care, high-quality cleaning and discreet service.
The company was named after the prototypical 'gentleman's personal gentleman,' and celebrated P.G. Wodehouse character. The first boutique opened in London in 1969 situated near Buckingham Palace. The first Jeeves of Belgravia was devoted to serving the needs of Westminster's affluent families.
By methodically crafting an identity of refinement and dedication to high-quality service, Jeeves Kuwait was able to gain a firm foothold in the dry cleaning industry and built a Jeeves brand that is synonymous with quality.
As the leading crème de la crème of high-quality dry cleaning service, Jeeves Kuwait attracts affluent and renowned customers including top level professionals and meticulous individuals looking for quality and tailored service. Among their long A-list of important clients include HRH and The Prince of Wales.
Tailored Fit Services
Jeeves' Kuwait branch offers diverse and custom tailored services that range from dry cleaning, laundry services, repairs, and alterations, as well as shoe repairs and home furnishings. They also offer specialist services like handbag restoration and couture for clients with sophisticated taste.
The service at Jeeves Kuwait combines expert workmanship with a state of the art techniques solely developed for high-quality fabric care.
Every piece of items that are brought to them including everyday items undergoes a proprietary seven stages cleaning process that starts with fabric evaluation and ends with careful and meticulous inspection of the materials.
Jeeves Kuwait prides themselves on world class service excellence, meticulous care, and discretion for every customer according to their individual requirements.
Located at Al Rai, Block 1, Street 17, Plot 1553, Kuwait City, Jeeves also offer pickup and delivery. You can contact the store at +965 184 8488 for additional details.