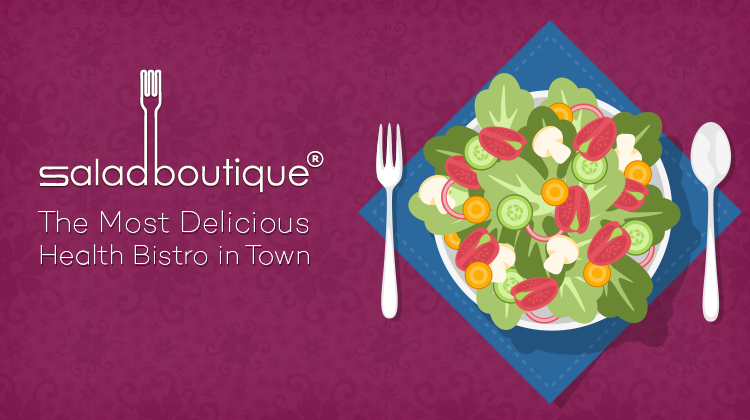 The brainchild of a trio of foodie entrepreneurs, Salad Boutique is a unique bistro best known for it's creative and unique approach to food and health. Grounded on the founders' imagination and creativity, the restaurant has grown from a small eatery serving delicious salads in Kuwait to an ever-growing regional chain with new stores recently opened in Jeddah, Bahrain and Qatar.
As the first ever bistro in the region serving salads as a main course, each recipe on the menu has been meticulously perfected by the chefs. Each dish is a unique twist derived from personal experience and international gourmet standards, made to tantalize and satisfy. The result of the efforts and hard work is evident in the amount of media coverage the bistro has enjoyed over the years, from being featured on numerous TV programs to fashion and gourmet magazines.
Diverse, mouthwatering dishes
The menu at Salad Boutique is indeed diverse, with over 100 mouthwatering items to choose from, ranging from a whole variety of different salads to sandwiches, burgers, pasta and party platters.
For green salads, try the Ensalada Rozza Salad, an eclectic mix of beetroot, potatoes, carrots, green beans, apples, pineapples, and raisins, served with a special dressing. For a more satisfying meal, pick the Milano Salad, a dish of macaroni with tender chicken breast strips, celery, carrots, raisins, corn and cheddar cheese drizzled with mayonnaise. Those who are more adventurous can go for the Spicy Seafood Salad, featuring spicy prawns, cuttlefish, salmon, jalapenos and red onions drenched in lemon dressing.
Friends can share Salad Boutique's Cold and Hot Platters, each served with a variety of cheeses, nuts, biscuits, vegetables, and either cold cuts and fruits for the Cold Platter or spring rolls, sausages, chicken and shrimp for the Hot Platter.
The beverage list also deserves a mention, with a vast offering of unique juices such as Banana Date and Oragane & Mango, to fruity energy drinks like Blue Hawaiian and Lemon & Mint, to the more traditional drinks like mineral water and fizzy drinks.
Unique service
What truly distinguishes the Salad Boutique from the average restaurant is their one-of-a-kind service to customers. The eatery assists customers in planning catering events, event venue bookings, and more. Corporate rates are available for regular company events, and discounts are given for organization employees and customers.
The Gift-A-Salad option allows customers to surprise loved ones with beautiful, tasty salads wrapped up in special packages. Each order is also accompanied by flowers and high quality packaging for a cozy, warm experience.
Guests who wish to have a hand in creating their own salad can also do so at Salad Boutique. Patrons are encouraged to submit their recipes online for the chance to get featured on the bistro's menu for an entire year.
Give Salad Boutique a try
Salad Boutique has three branches operating from 9 a.m. to 10:30 a.m. from Sundays to Thursdays, and to 12 midnight on Fridays and Saturdays. Dine-in is available at the Avenues Mall and Al Jabriya, while the Al-Shaab branch handles take-away and delivery services.
Home delivery is also available at these timings, and orders can be placed through +965 2261 2411 or +965 2266 3615. The company is also currently working on an online ordering system, which will be launched soon. Delivery options are also available through Talabat.
Official website ordering: http://saladboutique.com/order-online/kuwait.html
Talabat ordering: http://www.talabat.com/kw/en/restaurant/114/salad-boutique-kuwait