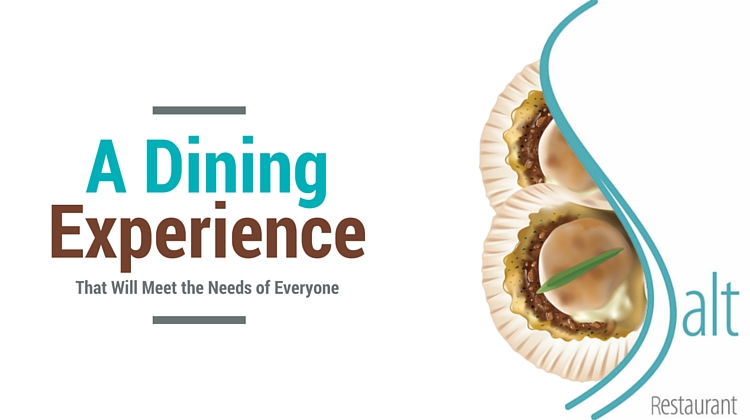 Diners in Kuwait have plenty of options that are available to them. But one restaurant has taken culinary reviewers by storm. Salt features fresh seafood dishes and combines them with international cooking, to create a unique menu that dazzles the senses. Each dish is inspired by a global classic cuisine and is perfectly paired with sides that allow it to showcase the true depth of the flavor profile of each dish.
As you dine here, you won't have to dress to the nines either. Instead, Salt only requires that patrons wear their smart causal attire. This means wearing clothing that would be acceptable for the professional business office. This will allow you to enjoy your meal comfortably, without running the risk of offending other patrons. Since you want the focus to remain on the delicious food, there should make sense.
Salt Offers More than Just
While some will visit Salt in Kuwait simply for the food, that isn't the entire experience. Here, you'll also find a live piano bar that will take you back to the days of classic dining. As the soft piano songs trickle in the background, you'll be reminded that your dining experience is one that should stimulate all your senses for the ultimate sense of pleasure.
The atmosphere is also inspired. The classic and elegant setting have been created by a team of experts to offer an inspired dining experience. The open seating combined with a calming pallet of color stimulates the visual senses to enhance further the experience that diners have at this restaurant.
A Dining Experience That Will Meet the Needs of Everyone
As you dine here, you'll find a great selection of foods. There is the tuna carpaccio that is stuffed with poached lobster, avocado, honey tomatoes and a tuna tapenade. Also available for those who are trying to avoid fish and meat are dishes like the cheese soufflé that features crème, hazelnuts, and a generous helping of arugula.
Families who want to have the ultimate experience might want to consider the cold seafood platter. This combines all the best the sea has to offer with servings that will fill you up. This menu includes lobster tails, king crab legs, prawns, scallops, and mussels. It's the ultimate feast fit for a king, and it does feature a price of 11.500 KWD per person.
If you would like to learn more about Salt Restaurant in Kuwait, please take a moment to contact them. Their contact information is as follows:
+965 2226 9666
https://www.jumeirah.com/en/hotels-resorts/kuwait/jumeirah-messilah-beach-hotel-and-spa/restaurants/salt/