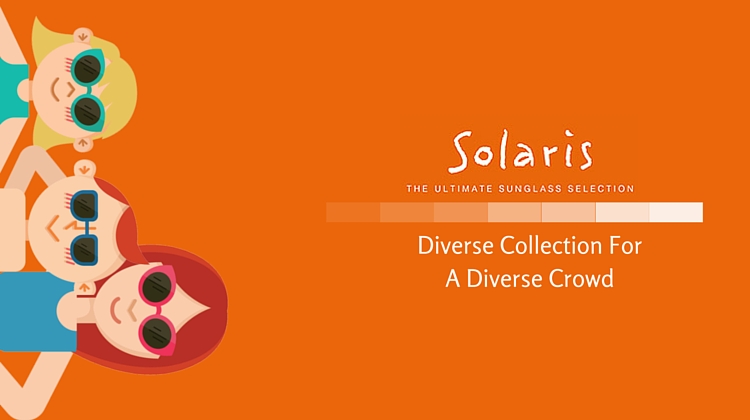 When it comes to sunglasses fashion, Solaris is one of the trendsetters of this industry. Solaris provides a wide a collection of branded eyeglasses, contact lenses, sunglasses, and accessories and lens care items. They design and produce eyewear for adults and children. They are proud of their convenient and affordable option of providing a quality brand name in all their vision care products. With more than 1,300 stores including its various online retailers, Solaris has established its presence in over 30 different countries including Kuwait. Since 1994, Solaris has been delivering expert Sunglasses worldwide.
Diverse Collection For A Diverse Crowd
Solaris offers products for men, women, and children with its exclusive, most exciting and latest styles of sunglasses and eyewear for the season. As the leader in sunglasses fashion, Solaris has the best selection of the world's leading brands that range from Gucci to Cartier, Ray-Ban, Dior, Oakley and Armani among others. They also carry the latest collections from emerging designers like Marc Jacobs, Tom Ford, and Roberto Cavalli. Solaris also have one of the biggest and most comprehensive in-stock frame selections in the world and their one hundred percent customer satisfaction rating is more than a guarantee for the quality of the products and service they provide.
Unique Approach in Marketing
Solaris, over the years of its operation, was able to establish itself as the global leader in sunglass retail ever since 1994. This is mainly due to their unique marketing approach and pursuing the strategy of expanding its global presence. And to further solidify the brand awareness in the market, Solaris developed and introduced the top of the line global capabilities when it comes to sunglass retail. By targeting and delivering affordable and high-quality sunglasses on an international scale, Solaris has carefully planted its roots in the retail industry.
At present, Solaris boasts more than eighty stores worldwide. From Paris to Milan, Monaco and St. Tropez, Solaris is now available to customers in Kuwait, UAE, Qatar, Bahrain and Oman and across the Middle East.
Visit them now at 2nd Avenue – The Avenues, Al Rai, Kuwait or call them at +965 22283394 for inquiries.