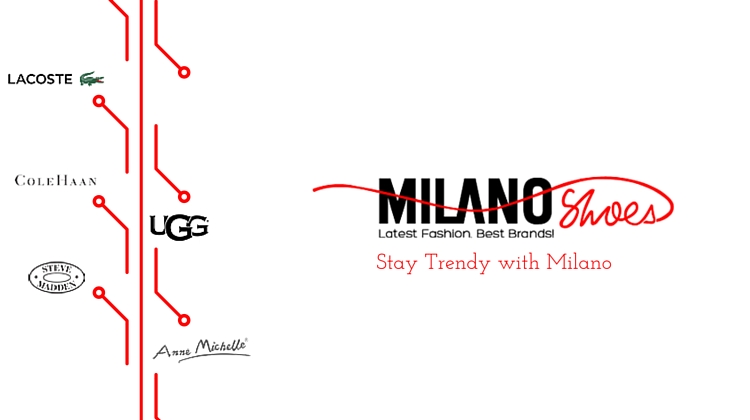 The urban trendsetter is offered more choice than ever before with the fantastic range of Milano shoes. The fashion focussed footwear and accessories supplier offers consumers in Kuwait not only fabulous choice at exceptional prices but a variety of outlets (seven in all) that make getting the best internationally inspired footwear at great prices even easier than ever before. Ever since the launch of the first Milano outlet in 1994 more and more people across the Middle East have been enjoying the fabulous value and widest choice of shoewear and accessories inspired by international trends. Today Milano has signature stores in seven different countries across the region and demand for the world-class products and exceptional value has never been greater.
More Choice and Style
With a range of footwear for discerning men and women, as well as handbags inspired by leading fashion houses Milano offers fantastic choice and ensures that every season is a new reason to celebrate the widest range and best value in Kuwait. With new collections that celebrate global trends inspired by the changing seasons, as well as extensive choice for both men and women Milano is one of the most trusted names in both footwear and accessories.
International Inspiration
The internationally acclaimed team of Milano designers are today even more focused than ever on providing even better value and style than ever before. With dedicated fashion spotters visiting style capitals across the globe consumers enjoy trendsetting fashion footwear and a huge variety of accessories inspired by the latest international collections. This is the fashion for the consumer who knows what she wants and isn't afraid to go out and get it. From shoes to handbags inspired by the tastes of today Milano boasts something for every discerning shopper.
Enjoy and visit
To enjoy even greater choice and fabulous value visit one of the Milano signature stores in seven different Kuwaiti locations. For contact details and directions visit http://www.alshaya.com/brand/milano/kuwait. To keep up to date with the latest internationally inspired fashion from Milano visit https://www.facebook.com/shopmilanoshoes. For even more shopping choice and convenience visit https://www.milanoshoes.com/ for great online shopping options.