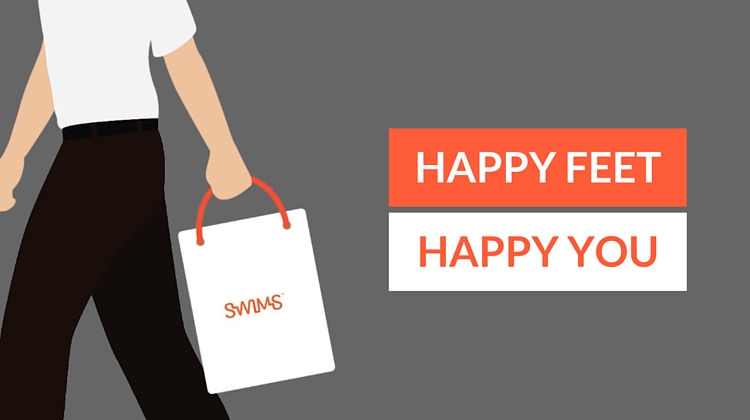 What if it pours rain, your shoes get all soggy, and you have an important meeting? Or, you're invited to go boating, but don't own any casual-chic shoes. What if SWIMS shoes Kuwait could make your feet happy?
What is the Story of SWIMS Shoes?
SWIMS began with Johan Ringdal's thought-seed to create a "modern galosh" that could be slipped over street shoes, during foul weather and slipped off at the destination.
This product was made manifest from personal experience. Tired of being ridiculed for wearing old-timey galoshes, Ringdal caved into fashion and as a result, suffered much discomfort, plus ruining many pairs of street shoes.
Enter SWIMS Classic Overshoes
SWIMS Classic overshoes, the modern version of galoshes, are available in fun colors, such as red, blue, orange or yellow. Professionals may prefer traditional brown, black or navy. Classic overshoes are constructed from a rubber compound, which withstands the toughest weather without tearing.
SWIMS overshoes feature their signature lining, which "polishes" your street shoes with every step you take.
SWIMS Boat Shoes
Call them stylish boat shoes, call them penny loafers with panache or call them SWIMS footwear. Whatever you call them; these versatile shoes are ideal for work or play. Functioning as boat shoes, they are water-resistant, long wearing and practical. Gripper soles keep you from slipping on wet surfaces.
The braided lace loafer is pretty perfect for loafing around and about on weekends. Or, wear them to work on casual Fridays. SWIMS boat shoes add a splash of color to a dismal day, in gray/green, navy/red, ice/navy, orange and more.
To deter the spread of germs, anti-bacterial materials are integrated, and the mesh lining fights odors.
SWIMS Sneakers
Luca sneakers made the top ten list in the 2014 Men's Journal. Typical of smart SWIMS footwear, the lining is removable, allowing it to aerate should it get wet. The non-slip rubber soles and flexible TPU shell, in combination with breathable mesh uppers, will invite your happy feet to dance. No worries if you step into a puddle, Luca sneakers are fast drying and machine washable.
Barry Brogue Sneaker Loafer
What do you get when sneakers marry loafers? The Barry Brogue! These sneaker/lace-up loafers highlight an ergonomic insole, the standard anti-bacterial upper of mesh and TPU shell.
Anton Runner Sneaker
The Anton Runner boasts an elegant silhouette, yet its durable construction withstands rigors of harsh winters. Made from plush materials, consisting of suede, calf leather, and treated nylon, the Anton is the crème de la crème of sneakers. Its flexible footbed is made of memory foam and swathed in calf leather.
Their Verdict
SWIMS shoes took the serviceable and made it stylish. We like the pops of color, from whimsical oranges and yellows to sophisticated grays and ice blues.
While the prices are close to those on a strict budget, the benefits may be well worth it, when the cost of replacing street shoes, ruined by inclement weather is considered. Have fun with looking for other types of loafer at www.swims.com/,
Swims shoes Kuwait welcomes your business. Contact them on 98881988 or follow them on Instagram at swimskw