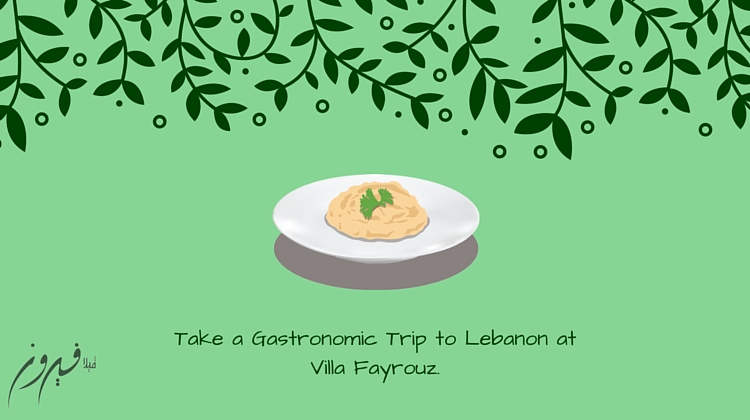 Villa Fayrouz was first introduced to the Kuwait public in 2001 and since its opening, it has built a solid reputation based on its interior styling and fabulous authentic Lebanese cuisine. Magnificent Moorish inspired ceilings overlook an interior with dark wood highlights at Villa Fayrouz, the fine dining destination which is rapidly gaining a reputation as one of Kuwait's best Lebanese restaurants. With stunning seating both indoors and out Villa Fayrouz is the place to engage in some people watching while enjoying regional specialities made from only the freshest of ingredients.
Exceptional Choice
With a menu that can only be the envy of other Lebanese dining establishments found elsewhere in the region, Villa Fayrouz is a treat for those who want to explore the popular Lebanese dishes that have now spread to restaurants throughout the Middle East. What makes this venue special, however, is not only the food – but the sheer quality of the presentation, the freshness of the ingredients and authenticity of the meals.
Mouth-watering favourites like Lamb Tongue Salad, Motabal, Fattoush, Manty, Kebbah with Yoghurt, an incredible Mixed Grill, the stunning lamb kebab built from lean, moist cubes of lamb loin, and accompanied by cherry tomatoes is a firm favourite with patrons. The extensive selection of meze has pride of place on the menu and is enjoyed by almost every diner.
Each dish is enlivened by some of the most delicious sauces that are available at any Lebanese restaurant in the country – this is a dining destination that has something for everyone.
And ending off the meal with one of the best cups of Arabic coffee in Kuwait is something to savour.
Families have grown to love the selection available at Villa Fayrouz and with some of the largest portions of town, this is a restaurant that offers exceptional value for money.
Not Just a Dinner
Villa Fayrouz every meal is a special occasion and for many the highlight of any day is a morning visit to the restaurant where mouth-watering breakfasts are available at wallet-pleasing prices. If you prefer regional specialities with a Lebanese flair or a traditional Western breakfast Villa Fayrouz will have something to please your palette.
Book Your Table Today
Immerse yourself in the legendary cuisine of Lebanon today and visit Villa Fayrouz or make your reservation by calling 22650052 / 53 22652030 for the Shaab Al Bahari location or 22597200 / 22597300 for the restaurant at Avenues Mall – Al Rai. For even more information visit www.facebook.com/VillaFayrouzOfficial/ or follow Villa Fayrouz on Twitter at
https://twitter.com/VillaFayrouz