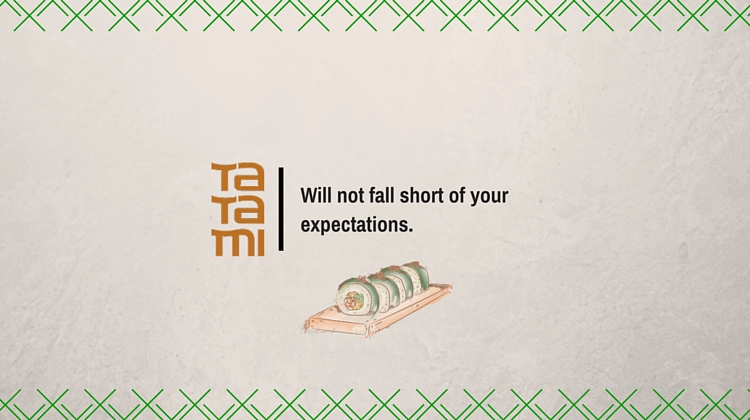 Although a fresh Kuwait concept, Tatami is an authentic Japanese restaurant located in the center of the city. Unlike other Japanese restaurants that offer traditional menus, Tatami is known for its contemporary twists on time-honored Japanese dishes. The aesthetics of Tatamis cuisines can be considered minimalist, but the food it serves is flavor – intense and emboldened with the incomparable discrimination for taste. From grilled Wagyu steak to a wide range of fresh fish dishes, Tatami Restaurant makes sure that they have every dish to satisfy different palates.
Authentic Japanese Cuisine in Kuwait
If you are craving for Japanese cuisine, you will not be wrong when you visit Tatami Restaurant. With a full array of authentic Japanese menu, you can practically taste all that Japanese cuisine has to offer at Tatami. Whether you love fresh seafood, perfectly made sushi or just an appetizer to warm up the start of your dinner, Tatami Restaurant is the place to be.
Fresh Menu and Cozy Ambiance
Known for its fresh menu and very accommodating staff, Tatami is a very quiet and cozy place that offers a relaxing ambiance conducive for experiencing the delight of authentic Japanese cuisine. From Miso soup to Edamame, Nigiri Sushi, Sashimi and spinach mushroom, Tatami Restaurant will not fall short of your expectations. Even their almond rolls are a must try because it will definitely complete your dining experience. Their Japanese noodles are known in the area for its sweet spicy taste, and to top it off, you can order their famous green tea cheesecake with a delightful strawberry on top.
If you are not in the mood to go out but have a strong craving for real Japanese or Asian cuisine, Tatami Restaurant now offers an online ordering platform. Not only do they serve a wide variety of Japanese and Asian menu but they also deliver to a wide range of areas in Kuwait. Enjoy the experience of a Japanese cuisine right at the comfort and privacy of your own home without sacrificing the authentic flavor of Japanese traditional dishes.
It may be surprising for some but you can actually experience authentic Japanese dishes in Kuwait. Located in Shaymaá Tower Omar Ben Al Khattab St in Kuwait City, Tatami Restaurant introduced traditional Japanese cuisine and gave it a twist for a more modern and contemporary clienteles.
Give them a call at +965 2225 1266 for reservation and delivery.