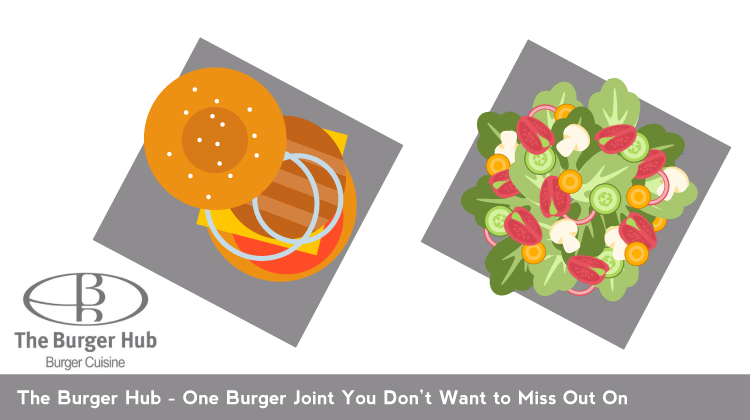 The Burger Hub is one of the original burger joints to innovate the burger in Kuwait.  Since 2006 The Burger Hub has served gourmet burgers and appetizers that are mouthwatering on sight.  The Burger Hub's food will tempt your senses and upon tasting, leave you with an unforgettable flavor in your mouth that you will not be able to resist. Go and satisfy your hunger with menu selections like their various burger options, chicken skewers with a light flavorful sauce, or their famous Umami Fries.  For a healthier option you can choose from one of their various salads such as their feta cheese salad, or one of their several sandwich options like their club sandwich. You can even choose to share some of their appetizers with a friend, such as their delicious 'Popsy Starters'.
Delicious Food
With Salads big enough for two or three people, crinkle fries covered in cheese, jalapenos and chilli meat sauce to die for. Or even their 'beef pops' perfectly accompanied with hoisin glaze. It is hard to not want to return to this comfortable, delicious and unforgettable dining experience. Have fun trying The Burger Hub's signature sliders. You can order what they call the Six 2 Tango.  The sliders will arrive as one big burger that you pull apart.  You have the choice of 6 different sliders to choose from.  The Burger Hub also has what they call the Baby Burgers. Order these and the name will definitely fool you!  Their Baby burgers are made of the amazingly tasty meat that all of the Burger Hub's burgers are made of. Surprisingly they are not "baby" or "mini" in taste or in size. Instead of being "mini" like their name suggests they are actually named after babies that are born within the owner's family.  What a way to honor a new family member and pleasantly surprise the customer dining on one of these wonderfully juicy burgers. Among one of their tastiest desserts to choose from is their chocolate caramel cake. You will get to watch the marshmallows on the top melt. It is so hot that the marshmallows turn into a gooey sauce that smothers the chocolate caramel cake.  It will be hard to let this rich, heavy and delicious dessert cool enough to eat.
A Refreshing Environment
With options in seating you can choose to dine inside in the Burger Hub's friendly, clean, non-smoking environment or outside where you can enjoy the weather and fresh air.  When choosing to dine inside, The Burger Hub offers an open simplistic feel with large signs painted on their walls that give it a slick sophisticated style. You will definitely have a peaceful and wonderful taste experience that will make you want to return time and time again.  Follow them on Twitter and you will see for yourself why this is a must: https://twitter.com/theburgerhub.  Ready to eat now? Order online at Talabat: http://www.talabat.com/kw/en/restaurant/736/the-burger-hub-kuwait .