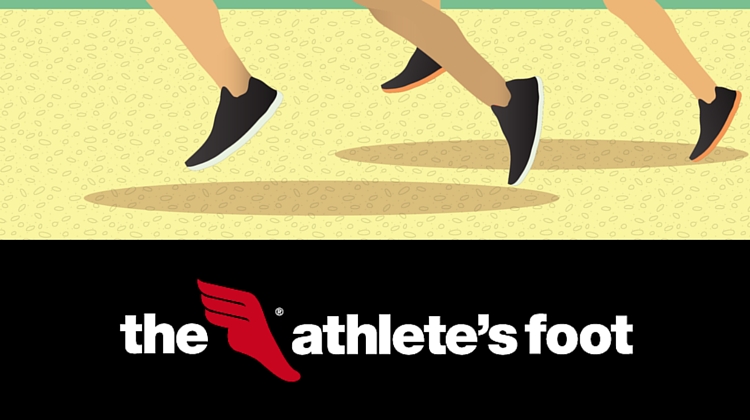 Ever since the first Athlete's Foot store opened in 1971 the company has dedicated itself to one goal – to be the world's leading athletic footwear supplier. Today with 471 stores in 26 different countries that goal is being realised. At the same time, The Athlete's Foot is living up to its promise to each and every one of its customers – that when you purchase your athletic footwear from one of the company's many outlets, you will leave the store with the pair of shoes that is right for you and your unique needs. Today that Athlete's Foot promise is extended to the sportsmen and women, as well as those searching for casual footwear in Kuwait.
For Your Feet
It doesn't matter whether you are pounding the pavement or the road, going to the gym or simply out and about the shoes that you wear are one of the most important contributors to your overall health and quality of life. A shoe that does not fit well or is unsuitable to your exact and unique requirements will lead to discomfort and possible muscular and skeletal damage.
The experts at The Athlete's Foot make it their business to keep up to date with the latest technology and trends within the footwear industry so that you have the peace of mind of knowing that the athletic shoes you purchase from The Athlete's Foot represent the best in the industry. As well as having the best products each and every Athlete's Foot employee receives extensive training in how to make sure that you enjoy the best fit and type of footwear for your individual requirements. In fact at The Athlete's Foot our patented Fitprint system guarantees that you will have the shoe that fits you best.
Not Just Shoes
At The Athlete's Foot not only will you enjoy the widest range of sports and casual footwear, but also the latest Athletic apparel, suitable for both the casual user or the dedicated sportsperson. With a selection of the world's premier sporting brands (as well as some exciting new brand choices) choice has never been easier than at The Athlete's Foot, where passion and your unique style rules the game.
Get in the Game Today
To enjoy the latest sports and fashion footwear, as well as exciting apparel choices, visit The Athlete's Foot in Kuwait at Marina Mall or phone 1804449. For more great footwear and apparel, ides visit https://www.facebook.com/TAFKW/ or https://www.instagram.com/theathletesfootkuwait/?hl=en. For further information visit the global Athlete's Foot website at http://www.theathletesfoot.com/