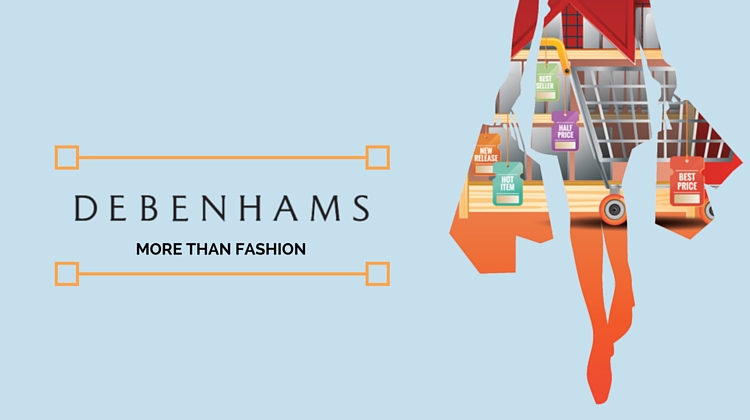 The world famous Debenhams quality is now available at four flagship stores in Kuwait. With a massive choice of clothing for both men and women, housewares, health and beauty products, toys, children's and baby wear, gifts and much, much more. The trusted Debenhams quality is now within everyone's reach.
Debenhams customers across the globe have access to a world-class selection of leading brands as well as Debenhams renowned house brands – for even better value.
With 67 stores in 26 countries outside the UK and Ireland, the Debenhams name has become synonymous with exceptional choice and a world class shopping experience – and that choice and experience is now available to shoppers in Kuwait.
Great Designers and Great Value
The Debenhams range of designer clothing and accessories has made Denham's a household name wherever those with an eye for style require exceptional internationally inspired fashion collections. With an unmatched choice of over 100 designers that include such globally recognized brands as Jasper Conran, Ben De Lisi, Julien Macdonald, Patrick Grant and Henry Holland (as well as many other globally respected fashion designers), Debenhams is more than just a store – it is an experience. Combine the unmatched choice of international fashion with Debenhams own brands and seasonal collections that always provide even more choice and fantastic options; consumers can pick and choose with the peace of mind of knowing that they will be receiving fashion that is at the cutting edge of global couture.
More than Fashion
Debenhams provides unlimited choice and a unique shopping experience. With the unmatched convenience of shopping for all your personal and household needs under one roof, the Debenhams experience is simply unmatched. For those consumers in search of the unique and exclusive this British inspired shopping experience is the preferred approach to getting the best quality that money can buy.
Get to Debenhams today
For great deals and widest selection, Debenhams is your shopping destination of choice. For more information, contact details, as well as directions to your nearest Debenhams store in Kuwait visit http://www.alshaya.com/locations/kuwait/debenhams. To enjoy even more convenience and online options visit http://www.debenhams.com/ or stay up to date with the latest fashion, events, and happenings in the Middle East visit https://www.facebook.com/DebenhamsMiddleEast/ and www.instagram.com/DebenhamsMiddleEast/