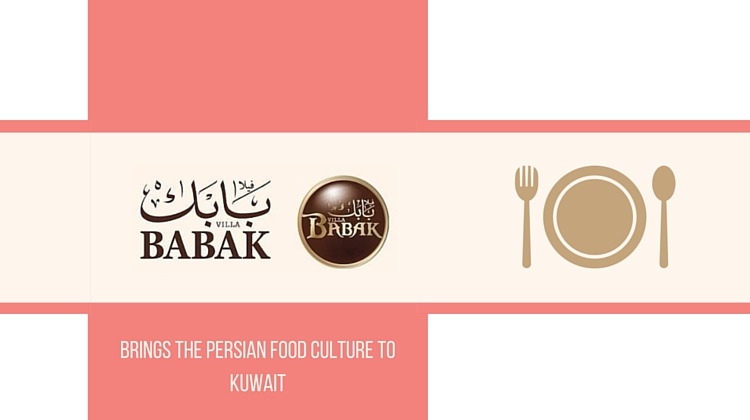 Villa Babak is a Persian Restaurant located at The Avenues – Souk in Kuwait. Villa Babak is one of the seven restaurants operated by Foodmaster Restaurants & Catering Company. Established in 2006, Foodmaster's goal is to establish and operate restaurants with different themes and cuisine speciality both locally and regionally. Currently, Foodmaster employs more than 250 staffs.
What sets Villa Babak apart from another themed restaurant is its luxurious décor reminiscent of the rich Persian culture mixed with piped-in Iranian songs. Villa Babak's menu contains a full selection of authentic Persian dishes combined with other cuisines that are not Iranian in nature.
Persian Flavor At Its Best
Villa Babak offers a sumptuous dining experience in one of Kuwait's prestigious location- The Avenues. Worth mentioning is the signature Badenjan salad exclusive to Villa Babak. Although it may seem quite heavy, it is actually worth a try particularly for those who love eggplant. This comes with labna along with other Iranian spices, and you can have it combined with a loaf of bread.
The kebab here is also very delicious but what you do not want to miss is the chicken tikka. Although there are other Mediterranean restaurants that have chicken tikka on their menu, the one offered by Villa Babak is definitely worth it. The restaurant allows you to choose the type of rice to combine with your meal or you opt to swap it with French Fries for a little twist on your meal. If you feel like enjoying seafood, Villa Babak also offers a pretty delicious grilled shrimp that you can share with your friends as a side dish.
Family Dining On Mediterranean Setting
Enjoying a meal at Villa Babak is always an experience you will definitely enjoy. Because of its warm ambiance and lively atmosphere with all the luxurious trappings, Villa Babak is ideal for a family dining experience with a Mediterranean setting.
Follow Villa Babak on Instagram @VillaBabak for daily updates on menus and other important announcements. You can also visit http://foodmasterco.com/ to learn more about the different themed restaurant they have established in Kuwait.