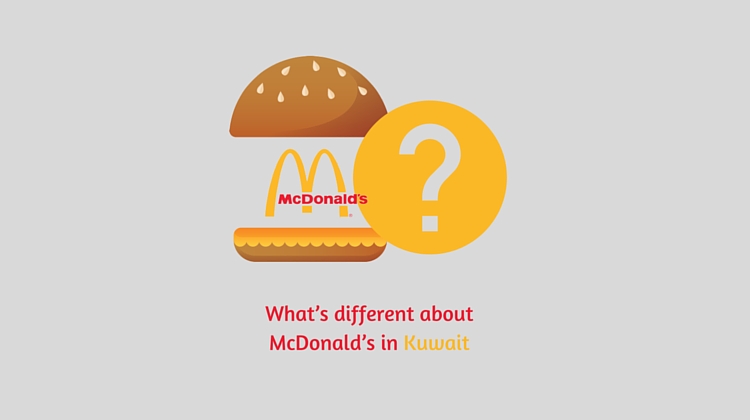 McDonald's is a global chain with over 35,000 outlets located in 118 countries around the world. These fast food restaurants serve around 68 million people every single day – which is approximately 1% of the world's population. That's ALOT of hamburgers – in fact, over 75 hamburgers are sold very single second.
While you can pretty much count on McDonald's to provide the same standard and quality of food wherever you are in the world, there's a lot going on behind the scenes that mean McDonald's offers slightly different menus in various countries. The McDonald's menu can vary for a number of reasons – sometimes certain meals just prove more popular in particular countries, other times the menu is governed by the religion of the country.
Kuwait is one such location where the McDonald's menu is different, with a focus on Halal produce. Food Safety Regulations vary worldwide and the menu in McDonald's Kuwait is determined by regulatory bodies such as the World Health Organisation, as well as by its own set of company standards. These standards ensure that the food served to the customer meets a range of requirements and fits in with the Islamic Halal requirements of the country.
The Halal McDonalds Menu
In Kuwait, McDonald's promises that the meat patties used in hamburgers are 100% pure Halal beef, with no additives, preservatives or flavour enhancers. To ensure the beef is 100% Halal, McDonald's Kuwait source their patties from approved meat plants that undertake numerous quality checks to ensure the preparation and packaging are up to standard.
The chicken used in sandwiches and McNuggets comes from manually deboned chicken breast meat. Meanwhile, the French Fries are produced from only the best quality potatoes and fried in vegetable oil.
All food consumed at McDonald's in Kuwait complies with Halal requirements, meaning that all raw ingredients, cooking utensils and meals conform strictly with the Islamic Halal requirements of KSA Central, Eastern, and Northern regions.
McDelivery
McDonald's Kuwait also offers the McDelivery service – meaning you can order online and have your Halal meal delivered to your door for you to enjoy from the comfort of your own home. This even includes the breakfast menu – which includes everything from pancakes and coffee to a Halloum Muffin.
McDelivery is also available for value meals and special offers – so you can rest assured that you'll enjoy the same value for money when dining at home as you would when visiting a restaurant.
The team at McDonald's in Kuwait even invite you to visit behind the scenes, allowing you to see for yourself the way that food is prepared and ask the staff any questions you might have about the sourcing of ingredients and Halal Food Standards.
McDonald's definitely goes above and beyond to make sure its customers are completely happy with their meals – wherever they are in the world. To make an order for McDelivery, or just find out more about the Halal menu, visit the website at https://www.mcdelivery.com.kw/kw/
Other Contact Information
Main website: https://www.mcdonalds.com/kw/en-kw.html
Telephone: 1878787
Facebook: https://www.facebook.com/McDonaldsKuwait/
Instagram: https://www.instagram.com/mcdonaldskuwait
Twitter: https://twitter.com/mcdonaldskuwait