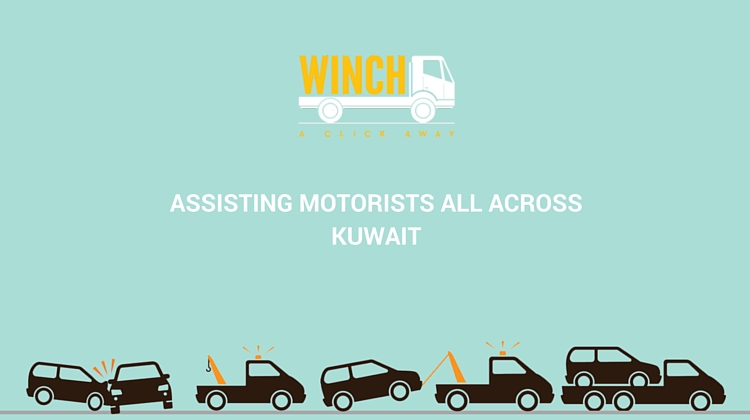 WINCH is the first mobile app road assistance in Kuwait that connects motorists to a network of tow truck services. Developed by two Kuwaitis college graduates, their inspiration to come up with a unique application was driven by their eagerness to give back to their country and be part of its revolutionary development in terms of infrastructure and services.
Easy Access Roadside Assistance App
Have you ever experienced being stuck on the roadside with absolutely no clue what to do or where to call for help? This is basically why Winch has been developed so; you would not spend long hours standing on the side of the road trying to figure out what to do with your car that would not start. Winch is a mobile app that allows you to find the right roadside assistance with your phone.
You don't know when accidents will come knocking on your car's doors. Before you embark on your road trip, it is best to have the most excellent app based roadside assistance solution that is not as expensive as your auto insurance coverage.
How To Use Winch
This application is very basic and easy to use. All you need to do are:
First, turn on your mobile phone's GPS so your location can be pinpointed on the map by operators. If your location is not available, you can mark your position on the map by dropping a pin on your position.
Second, Once your position is mapped, click on the button "Request Winch" and type in the required details of your car along with a clear description or narrative of the incident and why you need a roadside assistance.
Finally, after you submitted everything, all you need to do is wait for someone to come and help you. If it could contribute to making the waiting time a little less boring, you can even track the driver on Winch's map as he makes his way to your position.
To learn of WINCH App, visit their website at http://www.winchq8.com/home.html. You can also follow them on Instagram at http://instagram.com/winchq8. You can download the app via Google Play App Store through the links below:
Google Play
https://play.google.com/store/apps/details?id=com.hemantech.roadassistancecustomer&hl=en
App Store
https://itunes.apple.com/us/app/winch./id929495190?mt=8